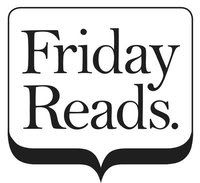 Friday Reads is another one of those geeky bookish memes, that a lot of my fellow book-nerds and other bookish people support every week. You pretty much just tell everyone what you're reading and maybe if you're feeling froggy, why. If not, it's cool.

So, this week I'm pretty much reading three books at the same time, just in different formats. One is an audio, which I almost never do and have recently decided I'd try out, the other is an e-book ARC that I received through Simon&Schuster's GalleyGrab, and another is a book that I recently purchased Ink Exchange by Melissa Marr. It's the second book in her Wicked Lovely series.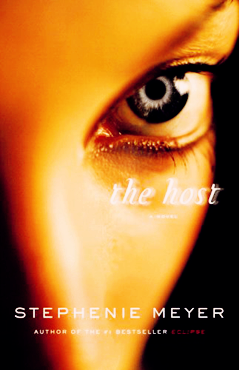 The Host
By Stephenie Meyer
Publisher: Little, Brown & Company
Publish Date: May 2008
Format: Audio Book
b&n // amazon
Melanie Stryder refuses to fade away. Our world has been invaded by an unseen enemy. Humans become hosts for these invaders, their minds taken over while their bodies remain intact and continue their lives apparently unchanged. Most of humanity has succumbed.

When Melanie, one of the few remaining "wild" humans, is captured, she is certain it is her end. Wanderer, the invading "soul" who has been given Melanie's body, was warned about the challenges of living inside a human: the overwhelming emotions, the glut of senses, the too-vivid memories. But there was one difficulty Wanderer didn't expect: the former tenant of her body refusing to relinquish possession of her mind.

Wanderer probes Melanie's thoughts, hoping to discover the whereabouts of the remaining human resistance. Instead, Melanie fills Wanderer's mind with visions of the man Melanie loves - Jared, a human who still lives in hiding. Unable to separate herself from her body's desires, Wanderer begins to yearn for a man she has been tasked with exposing. When outside forces make Wanderer and Melanie unwilling allies, they set off on a dangerous and uncertain search for the man they both love.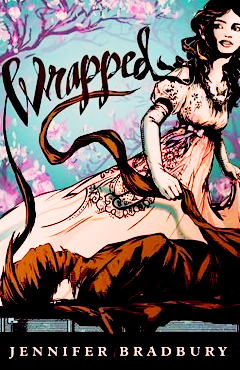 Wrapped
By Jennifer Bradbury
Publisher: Atheneum
Publish Date: May 24, 2011
Format: Digital ARC from Simon&Schuster's GalleyGrab
b&n // amazon
Agnes Wilkins is standing in front of an Egyptian mummy, about to make the first cut into the wrappings, about to unlock ancient (and not-so-ancient) history.
Maybe you think this girl is wearing a pith helmet with antique dust swirling around her.

Maybe you think she is a young Egyptologist who has arrived in Cairo on camelback.

Maybe she would like to think that too. Agnes Wilkins dreams of adventures that reach beyond the garden walls, but reality for a seventeen-year-old debutante in 1815 London does not allow for camels—or dust, even. No, Agnes can only see a mummy when she is wearing a new silk gown and standing on the verdant lawns of Lord Showalter's estate, with chaperones fussing about and strolling sitar players straining to create an exotic "atmosphere" for the first party of the season. An unwrapping.

This is the start of it all, Agnes's debut season, the pretty girl parade that offers only ever-shrinking options: home, husband, and high society. It's also the start of something else, because the mummy Agnes unwraps isn't just a mummy. It's a host for a secret that could unravel a new destiny—unleashing mystery, an international intrigue, and possibly a curse in the bargain.

Get wrapped up in the adventure . . . but keep your wits about you, dear Agnes.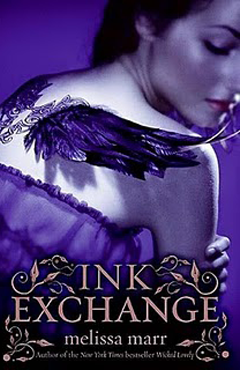 Ink Exchange
By Melissa Marr
Publisher: HarperCollins
Publish Date: Reprint (March 31, 2009)
Format: Paperback, pp 325
b&n // amazon
Unbeknownst to mortals, a power struggle is unfolding in a world of shadows and danger. After centuries of stability, the balance among the Faery Courts has altered, and Irial, ruler of the Dark Court, is battling to hold his rebellious and newly vulnerable fey together. If he fails, bloodshed and brutality will follow.

Seventeen-year-old Leslie knows nothing of faeries or their intrigues. When she is attracted to an eerily beautiful tattoo of eyes and wings, all she knows is that she has to have it, convinced it is a tangible symbol of changes she desperately craves for her own life.

The tattoo does bring changes not the kind Leslie has dreamed of, but sinister, compelling changes that are more than symbolic. Those changes will bind Leslie and Irial together, drawing Leslie deeper and deeper into the faery world, unable to resist its allures, and helpless to withstand its perils.