Third Sentence Thursday is a nifty little weekly meme hosted by Sniffly Kitty's Mostly Books.

1) Take the book you are reading now and post the third sentence
2) Review this sentence anyway you want (funny and silly reviews encouraged)
3) Post a link to your sentence here or if you don't have a blog, just post it in the comments!


Radiant Shadows
By Melissa Marr
b&n // amazon
Published Date: April 20, 2010
Publisher: HarperCollins
Book Format: Hardcover, pp 368
"The air did not touch her; consequently, he was unsure if he could." (pp 1)



Hunger for nourishment.
Hunger for touch.
Hunger to belong.



Half-human and half-faery, Ani is driven by her hungers.

Those same appetites also attract powerful enemies and uncertain allies, including Devlin. He was created as an assassin and is brother to the faeries' coolly logical High Queen and to her chaotic twin, the embodiment of War. Devlin wants to keep Ani safe from his sisters, knowing that if he fails, he will be the instrument of Ani's death.

Ani isn't one to be guarded while others fight battles for her, though. She has the courage to protect herself and the ability to alter Devlin's plans—and his life. The two are drawn together, each with reason to fear the other and to fear for one another. But as they grow closer, a larger threat imperils the whole of Faerie. Will saving the faery realm mean losing each other?

Alluring romance, heart-stopping danger, and sinister intrigue combine in the penultimate volume of Melissa Marr's New York Times bestselling Wicked Lovely series.

*Summary taken from Goodreads.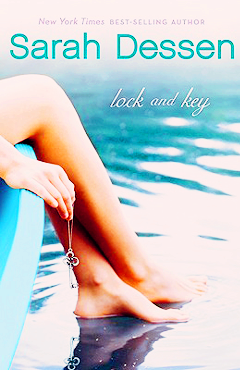 Lock and Key
By Sarah Dessen
b&n
//
amazon
Published Date:
April 22, 2088
Publisher:
Penguin Group (USA)
Book Format:
Hardcover, pp 432
"Which was probably unfair, but then again, I didn't know my sister anymore, much less her decorating style." (pp 01)

After her mom vanished in a stench of drugs and alcohol, Ruby continued to live in the family house alone. Finally found out, the introspective teenager is sent to the luxurious home of her older sister, Cora, whom she hadn't seen in ten years.

Everything there seems unfamiliar, uncomfortable, and supremely weird: her fancy new room; her lavish new wardrobe; the exclusive private school where she never quite fits in. Most mysterious of all is Nate, the friendly boy next door who seems to have a deep secret of his own.

Another subtle character-driven teen novel by Sarah Dessen, the author of Just Listen and That Summer.
Couple of things, I have enjoyed all of the posts that have been in the various blogs participating in Sarah Dessen Week, and I can't wait to see what else is to be posted. There have been some awesome reviews, teaser's, giveaways, and other things posted that has just been way too entirely fun. I'm currently enjoying Lock and Key and definitely plan on reading Along For The Ride, even if I don't get to start it during this week, at least I got one started.

Also, I'm starting the four book in the Wicked Lovely series, Radiant Shadows and I'm half-worried and just a tad bit ambivalent going into it, since I've seen so many people saying that it was hard for them to get into it. I'm definitely not going to let that deter me, though, because I always want to read it for myself and find out. I've been really enjoying the series from the second book on - not that the first book wasn't any good - it's just I didn't really start connecting with the series until I read Ink Exchange.
Booking Through Thursday is a weekly event hosted HERE, where fellow book-dorks get together and discuss books and bookish type things. Each week there is a theme or a different subject and all you have to do is make a post about it in your blog and then link to the post in the comments section. Easy-peasy.
Do you read books "meant" for other age groups? Adult books when you were a child; Young-Adult books now that you're grown; Picture books just for kicks … You know … books not "meant" for you. Or do you pretty much stick to what's written for people your age?

Of course I do, but honestly I don't think that reading young adult books when you're adult is a bad thing, more than I think that reading adult fiction (within reason on content matter) when you're a young adult is either. Actually, to tell the truth, I flip-flopped quite a bit. I remember discovering the world of V.C. Andrews when I was fifteen years old and I absolutely fell in love with not only the books, but that character's that she herself created, the world in which they came from as controversial as her stories were, she told them in such a bold and exciting way that had the power to draw you in and actually make you think about what you were reading, but also held the power to literally dare you to walk a wide ten foot radias around your comfort zone. There I was in my local library holding Flowers In The Attic in one hand and My Sweet Audrina in the other and I've not looked back since and the important thing: I don't regret not one bit.

She took my "like" of reading and literally turned into a "love" of reading. Not that I didn't already enjoy reading to begin with, but she certainly helped to elevate it, it was a bit of a change going from Sweet Valley High and The Baby-sitter's Club to V.C. Andrews. For the most part, I read a great deal more young adult fiction, than I do anything else. But, I also read a fair amount of adult fiction, too. Like, I cannot live without Charlaine Harris's Sookie Stackhouse novels and I've been dying to get into Sherrilyn Kenyon's Dark-Hunter series and J.R. Ward's Black Dagger Brotherhood series as well.