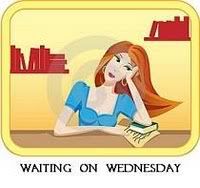 "Waiting On" Wednesday (or ya know WoW!) is a nifty little weekly event, hosted by the ever so lovely Jill at Breaking The Spine that puts the spotlight on various new and upcoming book releases that have become the"ohmigod! i gotta have this or i'll just die," eagerly anticipated.

Dead Rules
By Randy Russell
Publisher: HarperTeen
Publish Date: June 21, 2001
Format: Hardback, pp 384
Age Demographic: Young Adult
b&n // amazon

Sometimes falling in love means you have to kill somebody.

Jana Webster and Michael Haynes were destined to be together forever. Of that, Jana was sure.

But Jana just died—in a bowling accident. And now she's trapped in Dead School. Jana is certain that it won't be long before Michael kills himself in order to spend eternity with her—but the days are passing and Michael is, inexplicably, still alive. So Jana decides to take matters into her own hands. And nothing—not even Dead School bad boy Mars Dreamcote's enticingly warm touch or the devastating secret he holds about her death—will stop her from making her dreams come true.

Romeo and Juliet meets Heathers in this hilariously macabre take on paranormal romance, packed with heart-stopping suspense and sizzling star-crossed love.
Okay, seriously. The cover of this book is just absolutely gorgeous and the premise gets even more intriguing every time I read it. I am completely estatic and excited about this book. I'm thinking, this may be one that I have to have the day it comes out. You know, those types of books. If I have to beg, borrow, or steal to get it - I will have it. It's just a matter of surviving the wait. And I have already received a shiny button with the face from the cover on it and a cool little business card that came from the author himself, Randy Russell. So, awesome! ;)

If you are not following his blog already, YOU SHOULD BE NOW!