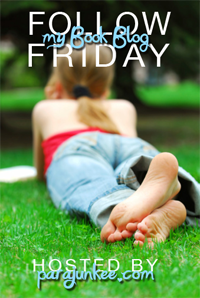 Happy Follow Me Friday, everyone! The long and short of it, life is crazy and reading is my life, basically. So, yeah this feature is awesomesauce.

Go here, to get the deets on it and start having some fun. It's all about meeting some new people, finding new blogs to follow, and basically just having fun with awesome people.



This week she's featuring the ever-so fun-tastic Mickey from I'm A Book Shark. If you haven't checked her blog out yet, well then what are you waiting for? Shoo...scoot on over there and see what bait draws her attention. Oh, and if you want to know more about her, check out her snazzy little intro over at here at Parajunkee's View
THE QUESTION OF THE WEEK
"In light of the Summer Solstice. Also known as Midsummer...let's talk about fairies. What is your favorite fairy tale or story that revolves around the fae?"
I'd have to say that so far, the only books that I've gotten around to reading at the moment that involves the fae, is Melissa Marr's Wicked Lovely series and even though it took me a while to get through the first book once I got into the series I really enjoyed it quite a bit. I think my favorite book was Ink Exchange. That's only because I love Irial so much and Leslie and Donia were my favorite girls. The imagery was just so dark and wickedly delcious, that I couldn't help but fall in love with world that she's created and all of the main players and bit part character's in some small way or another.

However, I am planning to read Julie Kagawa's Iron Fey trilogy this summer and I'm getting ready to read The Faerie Ring this week, so I will definitey be adding more fae to my list of to-be-read's.
Brought to you by the ever awesome and fiercely amazing CRAZY FOR BOOKS. Want to make a connection with a fellow blogger? Feel the need for a few new followers? Or you just want to spread some blogger spirit and love? Well, this is totally the "blogger hop" for you and you can find out how to do all that HERE.

THE QUESTION OF THE WEEK
"When did you realize reading was your passion and a truly important part of your life?"
I realized this pretty much, when I first strated learning to read. But, I don't think I really grasp the full concenpt of this, until I was in my pre-teens and I started visiting the library weekly and asking for books for either my birthday or other holiday's. I've always been passionate about reading, even more so now, I think. I started out reading Christopher Pike, Francine Pascal, L.J. Smith, Ann M. Martin, V.C. Andrews, etc. Books have allowed me to expand and grow in ways that I never thought possible, my imagine is filled with so many wonderful shining examples of how books have changed my life. When I was younger, I used books as a means of escapism and also as a way of exploration, too. It was very easy to dive into a novel and almost become one of the character's, with every turn of the page until you reached the end and you were happy that it was over and whatever goal or happiness was in store for the character's you loved and cherished happened or you were sad because it was over and you wanted more, because you wanted the story to continue.

Some of these books helped to shape the way that I look at the world, were able to shake the up some of my already pre-conceived perceptions, and help me to look past certain things and acknowledge the beauty in other's. Books can change lives. I believe this with everything I've got in me. I know this, can feel it in my bones, because they changed my life in so many ways and they're still doing it today. They open doors and give you the knowledge that you so cleverly seek. They make you laugh, make you rail on angrily, and they make you feel more importantly. You're alive when you're reading a book and that story has the power to stick with you, and it does.