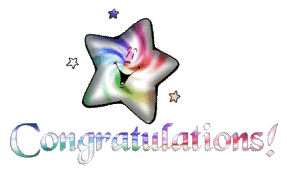 Congratulations and Congrats Comments Pictures - Photobucket
GABY
@
OH MY BOOKS!
She was the lucky winner of my first ever giveaway on my blog. I hope she enjoys the books. Gaby, please email me back and let me know that you have received your prizes, as I've already purchased them in the form of gifts to you and have sent them straight to your email.

And for the most important thing: I hope you enjoy them and happy reading! <3. The winner was chosen, using an Interger Generator from random.org. The winner has already been contacted and has 48 and has replied back to my initial email and and have been awarded their prizes.

Thanks for participating in my first official giveaway and for helping to make it the success it's turned out to be! Look for more on the way, in the upcoming months.