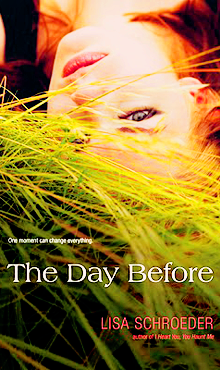 The Day Before
By Lisa Schroeder
b&n
//
amazon
Published Date:
June 28, 2011
Publisher:
Simon Pulse
Book Format:
Hardback; pp 320
Age Demographic:
Young Adult
Amber's life is spinning out of control. All she wants is to turn up the volume on her iPod until all of the demands of family and friends fade away. So she sneaks off to the beach to spend a day by herself.
Then Amber meets Cade. Their attraction is instant, and Amber can tell he's also looking for an escape. Together they decide to share a perfect day: no pasts, no fears, no regrets.

The more time that Amber spends with Cade, the more she's drawn to him. And the more she's troubled by his darkness. Because Cade's not just living in the now—he's living each moment like it's his last.

*Summary taken from Goodreads.

❝My Thoughts❞
I read this novel a few weeks ago and I came away from the reading experience with two things, 1.) it was my first time to read a novel in verse and 2.) I actually enjoyed it quite a bit. The words and imagery just seemed to flow so smoothly and effortlessly, it was quite beautiful. Even though the insta-love Amber had for Cade had me scratching my head, becuase she'd only known him for pretty much all of one day, there was a tenderness that it seemed to possess that gave it a very realistic feel.

There was a vulerability in The Day Before that resonated with me, it was a very easy read, as I said before the words just seemed to float easily and gracefully from one page to the next, the prose was well developed, and it was easy to feel with the characters instead of just for them. The novel possessed a means of escapism, for both Amber and Cade, which I can understand and relate to in a sense.

The fear of one life being lost and another one being uprooted against her wishes, left me longing for them to find some semblance of peace and happiness, even if for just one day. It made me want the happy ending. All in all, I really did enjoy this book and I find that I can easily give it four stars without any qualms.

Note: I received this book through a Simon&Schuster Galley Grab.