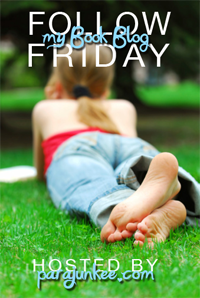 Happy Follow Me Friday, everyone! The long and short of it, life is crazy and reading is my life, basically. So, yeah this feature is awesomesauce.

Go visitParajunkee's View, to get the deets on it and start having some fun. It's all about meeting some new people, finding new blogs to follow, and basically just having fun with awesome people.



This week she's featuring the ever so fabalicious STEPH FROM STEPH LOVES BOOKS, who is one of the bightest and bubbliest of book bloggers that I follow. You'll totally love her, she's an absolute sweetheart!





THE QUESTION OF THE WEEK





"How has your reading habits changed since you were a teen? or If you are still a teen what new genres are you in love with currently?"





I don't know that you could say my tastes in reading has changed over the years, I guess it has. In some ways it has matured to a degree, but in other's it's still the same. I think I've been able to step out of my comfort zone a lot more lately (this year in general) than I have before and have been experimenting with reading different genre's, like Dystopian, Steampunk, more of the Contemps, etc. I've also been managing to slip in a few more adult reads, amongst the piles and piles of young adult.

But, more than anything, I just LOVE to read in general. It piques my curiosity, helps build up my word vocabulary, and just gives me more room to dream big. Unfortunately, my dreams will only take me so far, so the rest I'll live vicariously through the worn out pages of one of my favorite books sitting way back high on my shelf or through a new character that I've just been introduced to.




Brought to you by the ever awesome and fiercely amazing CRAZY FOR BOOKS. Want to make a connection with a fellow blogger? Feel the need for a few new followers? Or you just want to spread some blogger spirit and love? Well, this is totally the "blogger hop" for you and you can find out how to do all that at CRAZY FOR BOOKS.






THE QUESTION OF THE WEEK





"Let's talk crazy book titles! Highlight one or two (or as many as you like!) titles in your personal collection that have the most interesting titles! If you can't find any, feel free to find one on the internet!"








To look at the name of All These Things I've Done, I'd never think that it was a book that was set in a world where chocolate and caffiene are illegal and New York was rife with crime and stricken with poverty, either. It all sounds so interesting. And with Cryer's Cross, I love how you sort of get a sense of what the books about when you look at the cover. I know, you're not supposed to judge a book by it's cover, but I love a book where the cover tells just as much of the story as the novel does itself. It's very interesting and all so intriguing. Plus, the scratchings in the little wodden desk is just a tad creepy, too.