Third Sentence Thursday is a nifty little weekly meme hosted by Sniffly Kitty's Mostly Books.

1) Take the book you are reading now and post the third sentence
2) Review this sentence anyway you want (funny and silly reviews encouraged)
3) Post a link to your sentence here or if you don't have a blog, just post it in the comments!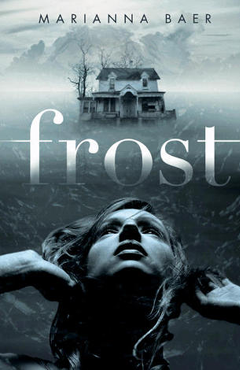 Frost
By Marianna Baer
Publisher: Balzer + Bray
Publish Date: September 13, 2011
Format: Hardback, pp 400
Age Demographic: Young Adult
b&n // amazon

"I mean, how do you have time for all your work, plus this, plus soccer, college stuff, and a girlfriend? It seems...impossible." (pp ;; 175)

Leena Thomas's senior year at boarding school begins with a shock: Frost House, her cozy dorm of close friends, has been assigned an unexpected roommate: confrontational, eccentric Celeste Lazar.

But while Leena's anxiety about a threat to her sanctuary proves valid, it becomes less and less clear whether the threat lies with her new roommate, within Leena's own mind, or within the very nature of Frost House itself. Mysterious happenings in the dorm, an intense triangle between Leena, Celeste, and Celeste's brother, and the reawakening of childhood fears, all push Leena to take increasingly desperate measures to feel safe.

Frost is the story of a haunting. As to whether the demons are supernatural or psychological . . . well, which answer would let you sleep at night?

*Summary taken from Goodreads.
Booking Through Thursday is a weekly event hosted HERE, where fellow book-dorks get together and discuss books and bookish type things. Each week there is a theme or a different subject and all you have to do is make a post about it in your blog and then link to the post in the comments section. Easy-peasy.
It's National Book Week. The rules: Grab the closest book to you. Go to page 56. Copy the 5th sentence as your status. (We've done something similar to this before, but it's always fun, so…why not?)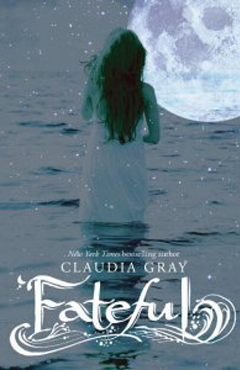 Fateful
By Claudia Gray
Publisher: HarperTeen
Publish Date: September 13, 2011
Format: Hardback, pp 336
Age Demographic: Young Adult
b&n // amazon

"Mikail's expression changed the moment I said steal from me." (pp ;; 56)

It's about a servant girl named Tess in 1912, who wants to escape from the house where she works, and most particularly the lecherous young lord of the manor. But that's not her biggest problem.

While on a voyage to America, where she plans to escape and start a new life, she meets Alec, who's ruggedly handsome, fabulously wealthy, intelligent and yet so clearly troubled that she'd rather not fall for him, but she does. That also is not her biggest problem.

Alec, it turns out, is a werewolf ... one cursed to change every night, unless and until he surrenders his independence and joins the Brotherhood, a pack of violently misogynistic werewolves who have been tracking him for months.

You'd think that would be their biggest problem, wouldn't you?

But no. Their biggest problem -- though they don't know it yet -- is that they're aboard the RMS Titanic.

*Summary taken from Goodreads.
Forever
By Maggie Stiefvater
Publisher: Scholastic Press
Publish Date: July 12, 2011
Format: Hardback, pp 400
Age Demographic: Young Adult
b&n // amazon

"My stomach twisted, warning me that I might not stay Grace for as long as I'd hoped." (pp ;; 56)

The thrilling conclusion to #1 bestselling Shiver trilogy from Maggie Stievater

In Maggie Stiefvater's Shiver, Grace and Sam found each other. In Linger, they fought to be together. Now, in Forever, the stakes are even higher than before. Wolves are being hunted. Lives are being threatened. And love is harder and harder to hold on to as death comes closing in.

*Summary taken from Goodreads.