This meme is brought to you weekly by MizB over at Should Be Reading.

Anyone can play along, just do the following:

01. Grab your current read and open to a random page
02. Share two (2) "teaser" sentences from somewhere on that page, but BE CAREFUL NOT TO INCLUDE SPOILERS! (Make sure that what you share doesn't give too much away! You don't want to ruin the book for others!)
03. Share the title and the author, too, so other TT participants can add the book to their TBR List if they like your teaser!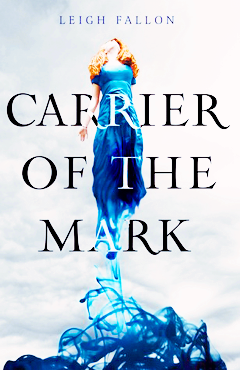 Carrier Of The Mark
By Leigh Fallon
Publisher: HarperTeen
Publish Date: October 4 , 2011
Format: Hardback, pp 352
Age Demographic: Young Adult
b&n // amazon

"They all looked at me with serious faces. Then they burst out laughing." (pp 31)

A move to Ireland is about to introduce Megan to her destiny, her real destiny, can she embrace it and will she survive it?

A tragedy in Megan's past set her on a predetermined course. A chain of events has been set in motion that brings Megan to Kinsale, a small town in the south of Ireland where her destiny awaits her. Her life starts to fall into place as she makes new friends and settles into her new school. However, the reclusive and distant Adam DeRís calls to her body and soul.

She finds herself increasingly drawn to Adam and his strange family. Adam knows a secret from her past and he and his family hold the key to her future. A future that binds her to Adam and his world, a world of power, mystery and ancient orders. A world that unbeknownst to her, she very much belongs in.

*Summary taken from Goodreads.
Bitter End
By Jennifer Brown
Publisher: Little, Brown Books for Young Readers
Publish Date: May 10, 2011
Format: Hardback, pp 368
Age Demographic: Young Adult
b&n // amazon

"When we came out on the other side, I held my breath, both hands pressed against my stomach, my heart pounding." (pp 78)

When Alex falls for the charming new boy at school, Cole, a handsome, funny, sports star who adores her, she can't believe she's finally found her soul mate-someone who truly understands her and loves her for who she really is.

At first, Alex is blissfully happy. Sure, Cole seems a little jealous of her relationship with her best friends, Zack and Bethany, but what guy would want his girlfriend spending all of her time with another boy? But as the months pass, Alex can no longer ignore Cole's small put-downs, pinches, or increasingly violent threats. As Alex struggles to come to terms with the sweet boyfriend she fell in love with and the boyfriend whose "love" she no longer recognizes, she is forced to choose - between her "true love" and herself.

*Summary taken from Goodreads.