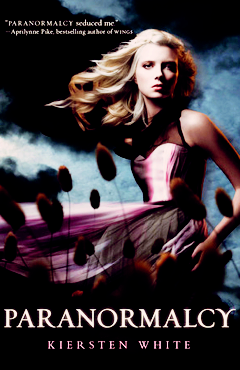 Paranormalcy
By Kiersten White
Publisher: HarperTeen
Publish Date: August 31, 2010
Format: Hardback, pp 352
Age Demographic: Young Adult
b&n // amazon

Weird as it is working for the International Paranormal Containment Agency, Evie's always thought of herself as normal. Sure, her best friend is a mermaid, her ex-boyfriend is a faerie, she's falling for a shape-shifter, and she's the only person who can see through paranormals' glamours, but still. Normal.

Only now paranormals are dying, and Evie's dreams are filled with haunting voices and mysterious prophecies. She soon realizes that there may be a link between her abilities and the sudden rash of deaths. Not only that, but she may very well be at the center of a dark faerie prophecy promising destruction to all paranormal creatures.

*Summary taken from Goodreads.
❝My Thoughts❞
Paranormalcy is a sarcastically witty supernaturally charged, action packed, captivating, engrossing read that keeps you on the edge of your seat from the first page to the last. It's basically kind of like a paranormal ball of mystery chalked full of secrets and revelations that spill out, build, and progress as you venture further into the novel. White did a fantastic job of creating likable character's, including paranormal creatures of all kinds and denominations so that there's a little something for everyone, developing the plot, and paying special care to the basis of the IPCA.

Right away, it gets straight into the story and introduces you to its main protragonist, Evie, who is a character that I very much enjoyed. She can see through paranormal glamours. She's just your basic Veronica Mars of the Supernatural world.

Evie, comes across as bright, witty, likeable, and in some ways a bit naive but that's more understandable once you get to know her. She doesn't let anything get her down, which is a breath of fresh air from some of the self-deprocating protragonists I've come across. Evie's pretty much a very badass super-hero chick in her own unique way, sporting around a super snazzy pink sparkly taser that she's affectionately dubbed as Taisy. Total spazz, but incredibly cute and fun to get to know, she just seems to be the sort of character that you could hang out with and have a lot of fun.

She comes along with a mermaid best friend who speaks to her through a computer, is pretty much stalked by an cruely evil yet interesting faery named Reth who is perfectly diabloical and quite educated in the art of manipulation, and Lend (a shapeshifter she is currently crushing on) who is just as sweet as he is mysterious. He's mysterious in the way that he can pretty much shift into the appearance of anyone he sees, yet still remain invisible as he is. They don't really know all that much about him, which further adds to the mystery of him. It lends that much more intrigue to the story unfolding.

I love how protective Lend is over Evie and how she befriended him totally crushing on him the whole entire time, while he was a sort of prisoner of the ICPA. It's endearing that she can see through his glamour to the real Lend and their relationship is incredibly sweet. I like that their romance didn't overpower the main plot of Paranormalcy and remained there, subtley in the background highlighted when needed.

The thing that I found most interesting was the unique twist on the paranormal genre involving faeries, that White was able to pull off quite well. It was a breath of fresh air that it featured vampires and werewolves in a lesser light, while giving the stage over to the main protagonist, who spends most of her time trying to just survive in their world trying hard to prove that she's not just another one of them.

There may be more to that story, than meets the eye. So, be on the look out for that.

White marries the perfect balance of sinister tension with a perfectly hilarious new twist in a paranormal novel geared towards young adults. Finally, vampires are as they should be represented, rotting empty corpses casting glamours to appear as if they're attractive. I like that she stuck to the traditional mythology surrounding faeries, while still sort of building her own in a way.

The paranormal world through her eyes and colorful discriptions, are what make Paranormlacy an appealing read. Fans of the paranormal romance and fantasy genre's will most definitely not be disappointed in this novel. It's totally worth the five stars that I'm giving it. If I could give it six, it would be for how pretty the cover is.