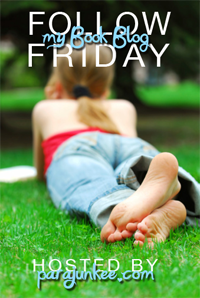 Happy Follow Me Friday, everyone! The long and short of it, life is crazy and reading is my life, basically. So, yeah this feature is awesomesauce.

Go visitParajunkee's View, to get the deets on it and start having some fun. It's all about meeting some new people, finding new blogs to follow, and basically just having fun with awesome people.



This weeks feature just happens to be one awesome chick, HOLJO AT . She is super fun to get to know, so totally check out her blog and follow her because she's kind of awesome like that. :)



THE QUESTION OF THE WEEK





"Have you ever wanted a villain to win at the end of a story? If so, which one??"





Well considering somebody else said Voldemort and I nearly spit my morning coffee out all over the place, I'm pretty much going to go with Eric Northman (even though I don't really consider him to be a villian, I can see how other's might) and Damon Salvatore from The Vampire Diaries. It might possibly be okay to say Spike from Buffy, since there was actually spin-off fiction based on the show. But, I'm thinking this is just really all about a fantastic villian that you want to win at the end of the series, so how about the Volturi as a whole collectively because let's face if that epic battle had been written it could have held the potential to be one of the best damn bloodbaths this century has seen in written literature. But, of course, since SM wrote it I doubt that's happening anytime soon.

So, that leaves us with Lestat, because everyone knows Anne Rice wrote the better vampires.




Brought to you by the ever awesome and fiercely amazing CRAZY FOR BOOKS. Want to make a connection with a fellow blogger? Feel the need for a few new followers? Or you just want to spread some blogger spirit and love? Well, this is totally the "blogger hop" for you and you can find out how to do all that at CRAZY FOR BOOKS.





THE QUESTION OF THE WEEK





"Many of us primarily read one genre of books, with others sprinkled in. If authors stopped writing that genre, what genre would you start reading? Or would you give up reading completely if you couldn't read that genre anymore?"





Since I mostly read YA fiction, I think it's safe to say that I'd almost feel lost if they ever stopped writing it, plus I would be sad too. There are some ridiculously talented authors who write for the young adult genre, that I feel are all too often overlooked because they write specifically for young adults. Not everyone who reads young adult books are young adults, I know a lot of grown adults who read many books that fall into the YA category, because they actually enjoy them. So, suffice it to say, that I'd pretty much start reading more Urban Fantasy or Paranormal (which, I pretty much do anyway) to feed my thirst for the written word.