I was lucky enough to be a part of the book tour for Witchlanders by Lena Coakley, hosted by Kismet Book Tours. I absolutely enjoyed reading this book, it was was not only fascinating but captivating as well. You can read my review for it here, if you'd like.

Today, however, it is an honor and a priveldge to have Lena Coakely on the blog in a special feature of, This or That. So, I'd like for you to join me in making her feel welcome and appreciated. (And I won't hold it against her, that she chose Stephenie Meyer over my beloved Anne Rice. lol.)
Lena Coakley was born in Milford, Connecticut and grew up on Long Island. In high school, creative writing was the only class she ever failed (nothing was ever good enough to hand in!), but, undeterred, she went on to study writing at Sarah Lawrence College. She got interested in young adult literature when she moved to Toronto, Canada, and began working for CANSCAIP, the Canadian Society of Children's Authors, Illustrators and Performers, where she eventually became the Administrative Director. She is now a full-time writer living in Toronto. Witchlanders is her debut novel.

Website
|
Twitter
|
Facebook
❝THIS OR THAT❞
WITH LENA COAKLEY
Witches or Sorcerers?

Witches, of course!

E-Reader or Physical Books?

I'm just about to get my first e-reader, so I'm teetering on the brink. I have no idea how I'll decorate my apartment without books, though. Right now they are pretty much wall to wall.

Paranormal or The Contemporaries?

Paranormal. I read almost nothing without some sort of "unreal" component.

Team Vampire or Team Werewolf?

Werewolves are sexier.

Series or Stand Alones?

I am the last holdout for stand-alone fantasies!

Anne Rice or Stephenie Meyer?

Steph!

Day or Night?

I want to be uber-cool and say night, but, really, mornings are my thing. Thanks so much for having me on your blog, Susan!
Enjoy the book trailer for Witchlanders and don't forget to enter the contest, below you can find all of the details. Remember, that you have a shot at 15 entries which kind of bolster's your odds in winning if you've stopped along every blog participating in this amazing book tour.
❝CONTEST INFORMATION❞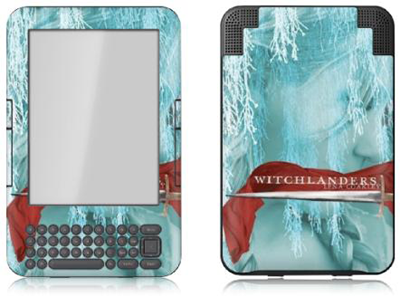 Answer the video question in the comments and it will enter you in the Kindle3 Giveaway. Gather up to 15 entries by commenting on each Tour Stop. Open US/Canada.
Monday, August 22nd - The Page Turners
Tuesday, August 23rd - The Unread Reader
BONUS post! Tuesday, August, 23rd - The Zealous Reader
Wednesday, August 24th - Books Complete Me
BONUS post! Wednesday, August 24th - Rayment's Reading Rants and Rambles
Thursday, August 25th - We Fancy Books
Friday, August 26th - Read.Breathe.Relax

Monday, August 29th - Emilie's Book World
Tuesday, August 30th - The Mundie Mom's
BONUS post! Tuesday, August 30th - YA Booklover's Blog
Wednesday, August 31st - The Enchanted Inkpot
Thursday, September 1st - Well Read Wife
Friday, September 2nd - A Journey of Books

Monday, September 5th - The Story Siren
BONUS post! Monday, September 5th - Midnight Bloom Reads
Tuesday, September 6th - One A Day Y.A.
Wednesday, September 7th - Reading Angel
Thursday, September 8th - Soul Unsung
Friday, September 9th - Alice Marvel's

Tuesday, September 13th: Announcement of the big prize winner on Lena's Site!