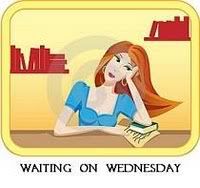 "Waiting On" Wednesday (or ya know WoW!) is a nifty little weekly event, hosted by the ever so lovely Jill at Breaking The Spine that puts the spotlight on various new and upcoming book releases that have become the"ohmigod! i gotta have this or i'll just die," eagerly anticipated novels to adorn your shelves.

This week, I've chosen the next book in Cynthia Hand's Unearthly Series, Hallowed. I remember being literally estatic for Unearthly before it came out, which is why I ordered it along with my pre-order for City of Fallen Angels. I couldn't help but want to splurge on a book that I knew would be super fantastic and I was so not disappointed with it, just as I know that I'm going to fall even more in love with the sequel once it's out.

Also, don't forget to enter my GIVEAWAY for an ARC of Carrie Jones, After Obsession. You can find the link for the giveaway post in my sidebar on the right side. It's a fantastic read and I know that if you liked her Need series, you will absolutely LOVE this book as well. It's totally a gem.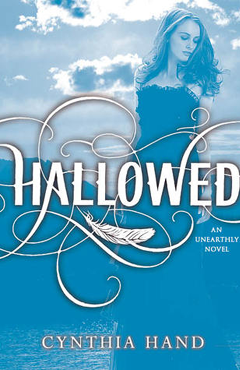 Hallowed
By Cynthia Hand
Publisher: HarperTeen
Publish Date: January 24, 2012
Format: Hardback, pp 320
Age Demographic: Young Adult
b&n // amazon

For months part-angel Clara Gardner trained to face the raging forest fire from her visions and rescue the alluring and mysterious Christian Prescott from the blaze. But nothing could prepare her for the fateful decisions she would be forced to make that day, or the startling revelation that her purpose—the task she was put on earth to accomplish—is not as straightforward as she thought.

Now, torn between her increasingly complicated feelings for Christian and her love for her boyfriend, Tucker, Clara struggles to make sense of what she was supposed to do the day of the fire. And, as she is drawn further into the world of part angels and the growing conflict between White Wings and Black Wings, Clara learns of the terrifying new reality that she must face: Someone close to her will die in a matter of months. With her future uncertain, the only thing Clara knows for sure is that the fire was just the beginning.

Described by Richelle Mead as "utterly captivating," Unearthly received outstanding reviews, garnered accolades from New York Times bestselling authors, and was named an Indie Next Pick. In this heart-wrenching sequel, Cynthia Hand expertly captures the all-consuming joy of first love—and the agony of loss. This beautifully woven tale will appeal to fans of Lauren Kate, Becca Fitzpatrick, and Aprilynne Pike.

I cannot deny that there is something inexplicably alluring where books about angels, fallen angels, half-human half-angel hybrids that makes me want to constantly read them. Or maybe it's just a really good tale of redemption that makes me fall in love with the story and root for underdog who manages to become the hero we've all been waiting for.

*Summary taken from Goodreads.