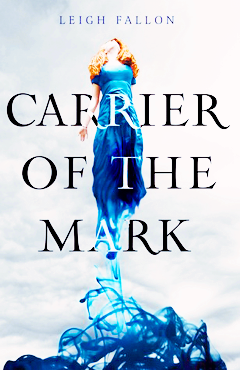 Carrier Of The Mark
By Leigh Fallon
Publisher: HarperTeen
Publish Date: October 4 , 2011
Format: Hardback, pp 352
Age Demographic: Young Adult
b&n // amazon

"They all looked at me with serious faces. Then they burst out laughing." (pp 31)

A move to Ireland is about to introduce Megan to her destiny, her real destiny, can she embrace it and will she survive it?

A tragedy in Megan's past set her on a predetermined course. A chain of events has been set in motion that brings Megan to Kinsale, a small town in the south of Ireland where her destiny awaits her. Her life starts to fall into place as she makes new friends and settles into her new school. However, the reclusive and distant Adam DeRís calls to her body and soul.

She finds herself increasingly drawn to Adam and his strange family. Adam knows a secret from her past and he and his family hold the key to her future. A future that binds her to Adam and his world, a world of power, mystery and ancient orders. A world that unbeknownst to her, she very much belongs in.

*Summary taken from Goodreads.
❝My Thoughts❞
Carrier of the Mark is not a novel that I will be forgetting about anytime soon, as I have many questions regarding certain aspects of it. I believe that it has a wealth of potential that it quite possibly taps into, as you follow along with the story it has to tell, whether or not some of it is confusing in some ways is left to the reader to decide for themselves. It is a bit different and unique, but that in and of itself, and I applaud Leigh Fallon for that.

There was so much to the story, that needed to be told and sometimes it felt as if it were a bit too much, in a way it was a touch overwhelming with everything being given to the reader all at once. Then the relationship aspect of it, that occurs between Adam and Megan, seemed quite intense and almost rushed in a sense. I think I would have liked to have seen that slowed down just a bit and pulled back on. I have always been one for slow build up's to a romantic interest, it makes it more realistic in a sense. Although, I will have to say, that I found these two quite adorable. Fallon also gets bonus points for not writing in a love triangle, as fun and interesting as those can sometimes be, sometimes it's much nicer without them hanging about and mucking things up in the process.

The scenery was gorgeous and very well depicted in the novel. With every flourish of Fallon's beautiful words, I felt like I was right there with the character's and was experiencing everything they were. Reading this novel, felt like reading beautiful poetry set to real life motion. It was undeniably beautiful. There is just no other way to describe it. And the thing is, as confusing as the prophecy and the Carrier's were to me, I very much enjoyed that aspect of the novel. I felt like there was so much more to the story and that it would be revealed with the next book, if I could just wait long enough for it. I have this strong desire to know more about them, like more on the history of how the legend came about and why the Carrier's function as they do, and what makes that prophecy so important?

As confused as I am with some aspects, I find myself captivated and driven by a natural desire to know more. I want to see other stories given the chance to unfold, such as Rian's, Adam's older brother whom I was quite taken with. The supporting character's are just as interesting as the main protagonists, few of them I think I may have ended up liking a bit more. The only flaw, that I keep inherantly coming back to, is that it seems as if Fallon has this desire to tell everyone's story all at once to get them out there, but I do feel it muddles up the plot and again becomes a bit overwhelming to the reader with everything being given to them all at once, instead of built up over a period of time and then revealed.

The plot line was well developed, I do feel, with some room for improvement and a little less clutter or confusion. Carrier of the Mark does provide an interesting and unique story, with some pretty memorable supporting character's as well as the two main protragonists that accompany them. I found myself deeply invested in this story and all that it had to offer, it's almost as if you're leaving normal and you're headed out into the great unknown. It's just that strong feeling of wanting to know more, even if it is dangerous to know and you do have a strong keen sense of power to keep the balance in the world from shifting. All of this and so much more, is what Megan now has to deal with and it's probably one of the most interesting and confusing things that I have ever read in a long time.

For me, personally, Carrier of the Mark was powerfully alluring, massively exciting, and filled with so many questions that I want the answers to. Which is why, I have no problem giving it four of five stars, I would have given it the full five if it hadn't been for some of the confusion and the feelings of being overwhelmed by all of the stories that were being told at once. These are minor flaws though, and they don't slow me down in recommending this book to all who enjoy great paranormal novels that provide unique stories being told.

In my opinion, Carrier of the Mark was a great debut novel for Fallon and I look forward to seeing more from her. It just simply possesses everything that I would want a new debut young adult paranormal romance complete with legend's, original storyline's, and star-crossed romance to entail.



{ This ARC was provided by HarperTeen, in exchange for an honest review which I have provided. No money exchanged hands, I review books for fun because I love to read. I am not interested in monetary gain. Any piece of this ARC that was quoted, is not part of the finished product and should not be perceived as such.}