This meme is brought to you weekly by MizB over at Should Be Reading.

Anyone can play along, just do the following:

01. Grab your current read and open to a random page
02. Share two (2) "teaser" sentences from somewhere on that page, but BE CAREFUL NOT TO INCLUDE SPOILERS! (Make sure that what you share doesn't give too much away! You don't want to ruin the book for others!)
03. Share the title and the author, too, so other TT participants can add the book to their TBR List if they like your teaser!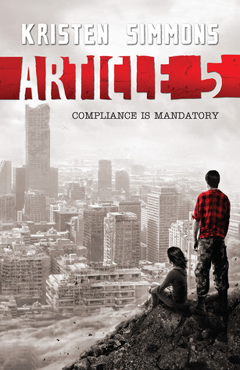 Article 5
By Kristen Simmons
Publisher: Tor Teen
Publish Date: February 14, 2012
Format: Hardback, pp 368
Age Demographic: Young Adult
b&n // amazon

"Beth and Ryan were holding hands. It was enough to risk a formal citation for indecency, and they knew better, but I didn't say anything. Curfew rounds wouldn't begin for another two hours, and freedom was stolen in moments like these." (pp 01)

New York, Los Angeles, and Washington, DC have been abandoned.

The Bill of Rights has been revoked, and replaced with the Moral Statutes.

There are no more police — instead, there are soldiers. There are no more fines for bad behavior — instead, there are arrests, trials, and maybe worse. People who get arrested don't usually come back.

17-year-old Ember Miller is old enough to remember that things weren't always this way. Living with her rebellious single mother, it's hard to forget that people weren't always arrested for reading the wrong books or staying out after dark. That life in the United States used to be different.

In the three years since the war ended, Ember has perfected the art of keeping a low profile. She knows how to get the things she needs, like food stamps and hand-me-down clothes, and how to pass the random home inspections by the Federal Bureau of Reformation. Her life is as close to peaceful as circumstances allow. That is, until her mother is arrested for noncompliance with Article 5 of the Moral Statutes. And what's worse, one of the arresting officers is none other than Chase Jennings…the only boy Ember has ever loved.

*Summary taken from Goodreads.
I just received this book in the mail today and have already started to read, I'm not that far into it but I have been really enjoying it quite a bit. I fell in love with the premise of this book, the second that I found about it about a month or so ago and was completely excited when I woke up to find it in my mailbox. So far, it has been really really good.