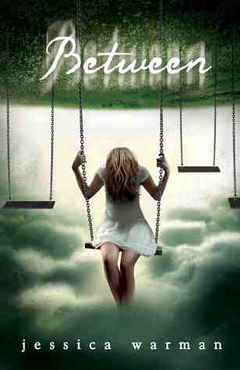 Between
By:
Jessica Warman
ARC From BloomsburyTeen
Note:
ATW ARC Tours
b&n
//
amazon
Published Date:
August 2, 2011
Publisher:
Walker Childrens
Book Format:
Hardback; pp 464
Age Demographic:
Young Adult
Elizabeth Valchar --- pretty, popular and rich --- wakes up the morning after her 18th birthday on the yacht where she'd been celebrating with her closest friends. A persistent thumping noise has roused her. When she goes to investigate, she finds her own drowned body is hitting the side of the boat. Liz is dead. She has no memory of what happened to her, and can only observe in horror the fallout of her death.

She's also soon joined by Alex Berg, a quiet boy from her high school who was killed by a hit-and-run driver. The two keep each other company, floating in and out of memories and trying to piece together the details of what happened to each of them.

In her regular life, Liz was a runner. It wasn't abnormal for her to run 8-10 miles per day. But as memories from closer to her death begin to surface, Liz finds that she'd been running much more than normal, and that she'd all but stopped eating. Liz's mother, who died when Liz was nine, had battled with anorexia as well, and those around her worried that Liz was following in her mother's footsteps. But something more sinister was consuming Liz from the inside out.

*Summary taken from Goodreads.
❝My Thoughts❞
Between is a book that is richly filled with great build up in anticipation and was overall very well written and developed. I fell in love with how compelling this novel became at times, mixing and blending the paranormal with much more contemporary elements. The mystery and intrigue is enough to draw any reader in and keep them engrossed from start to finish and Jessica Warman does an excellent job in keeping suspense and mystery exciting and fresh for the audience.

The darker issues and themes that were introduced, were very well addressed and handled in a smart manner. It provided the just enough bittersweet emotion, before you realized a certain thing pertaining to the main protagonist of the story. It's hard to write a review about this novel, for fear of giving too much away. One of the things I ended up liking the most about it, was the fact that the romantic developments in the story, ended up taking a backseat to the more important issues (such as drinking and bullying) were concerned. For once, there's a fantastically written and highly compelling young adult novel out there that doesn't focus all of it's energy on the romantic aspects.

The flashbacks were handled beautifully providing background knowledge that lends itself well to the story and Liz was this character that I wasn't sure if I would personally enjoy or not, in fact a good portion of the time she's not quite as likable as I would have liked her to be ideally, but she's real and she comes with these flaws that make her understandable as you continue reading the story. Give or take a couple of drawn out moments and you'll find that you're reading a novel that sort of fits together much in the same way that a gigantic jig-saw puzzle might.

I have to say that it's quite interesting to see how well the story itself comes to life and resolves itself in such an surprising way, filled with heightened bittersweet emotion, heartbreak, betrayal, lies, and a great flare of mystery that leaves you coming back for more in the end.

{ This ARC was provided by Bloomsbury Teens and ATW ARC Tours, in exchange for an honest review which I have provided. No money exchanged hands, I review books for fun because I love to read. I am not interested in monetary gain. Any piece of this ARC that was/wasn't quoted, is not part of the finished product and should not be perceived as such.}