Third Sentence Thursday is a nifty little weekly meme hosted by Sniffly Kitty's Mostly Books.

1) Take the book you are reading now and post the third sentence
2) Review this sentence anyway you want (funny and silly reviews encouraged)
3) Post a link to your sentence here or if you don't have a blog, just post it in the comments!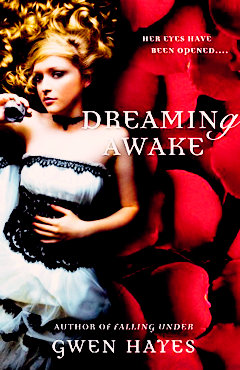 Dreaming Awake
By Gwen Hayes
Publisher: Penguin Group (USA)
Publish Date: January 3, 2012
Format: Paperback, pp 336
Age Demographic: Young Adult
b&n // amazon

"Love had seduced my heart and soul, changed me forever, and then, in one promise made under duress, jeopardized my humanity. And yet I couldn't regret it." (pp ;; 01)

She fell for him in a nighttime world. But the time for dreaming is past—and the here-and-now can be just as fragile their love…

When Theia Alderson first encountered a mysterious, handsome boy in her dreams, she never imagined how finding Haden Black—and falling in love—could change her life. To save Haden, Theia sacrificed everything. And the dangerous bargain she made could have lasting repercussions.

Now Theia has returned to Serendipity Falls, and she finds herself struggling with the same deadly hungers that have tortured Haden. When students at their high school fall prey to a mysterious illness, Theia can't help but wonder if Haden's control is slipping—and how much longer she'll have a grip on her own.

And still the nightmare realm of Under won't let them go. Someone from Haden's past is determined to destroy Theia from the inside out, starting with those closest to her, forcing Theia to choose between family and friends and a love that may have been doomed from the start…

*Summary taken from Goodreads.
I'm not usually one for straight up love stories, but I absolutely love these books. They're beautifully written, almost lyrical in a sense, and the imagery is quite powerful and heartwrenching. They also hit you with a powerful dose of emotional, that hooks you and keeps you there as the rest of the story unfolds.
{ This ARC was provided by ATW ARC Tours, in exchange for an honest review which I have provided. No money exchanged hands, I review books for fun because I love to read. I am not interested in monetary gain. Any piece of this ARC that was/wasn't quoted, is not part of the finished product and should not be perceived as such.}