Third Sentence Thursday is a nifty little weekly meme hosted by Sniffly Kitty's Mostly Books.

1) Take the book you are reading now and post the third sentence
2) Review this sentence anyway you want (funny and silly reviews encouraged)
3) Post a link to your sentence here or if you don't have a blog, just post it in the comments!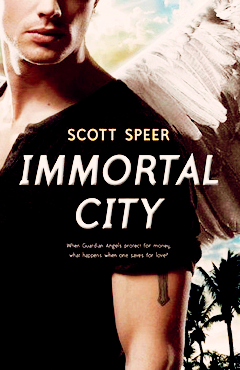 Immortal City
By Scott Speer
Publisher: Razorbill
Publish Date: April 3, 2012
Format: Hardback, pp 368
Age Demographic: Young Adult
b&n // amazon

"Giant white letters, fifty feet high, spelled out the iconic words ANGEL CITY. To everyone else the sign was a symbol of glamour, an icon of the Angels' wealth and power. Maddy just couldn't bring herself to care." (pp ;; 11)

Jackson Godspeed is the hottest young Angel in a city filled with them. He's days away from becoming a full Guardian, and people around the world are already competing for the chance to be watched over by him. Everyone's obsessed with the Angels and the lucky people they protect - everyone except for Madison Montgomery.

Maddy's the one girl in Angel City who doesn't breathlessly follow the Angels on TV and gossip blogs. When she meets Jackson, she doesn't recognize him. But Jackson is instantly captivated by her, and against all odds the two fall in love.

Maddy is swiftly caught up in Jackson's scene, a world of glamour, paparazzi - and murder. A serial killer is on the loose, leaving dead Angels' wings for the police to find on the Walk of Fame. Even the Guardians are powerless to protect themselves in the face of this threat … and this time it's up to Maddy to save Jackson.

*Summary taken from Goodreads.
The hook is pretty much the tagline which reads, "When Gaurdian Angels protect for money, what happens when one saves for love?" You interested yet?
{ This ARC was provided by ATW ARC Tours, in exchange for an honest review which I have provided. No money exchanged hands, I review books for fun because I love to read. I am not interested in monetary gain. Any piece of this ARC that was/wasn't quoted, is not part of the finished product and should not be perceived as such.}