This meme is brought to you weekly by MizB over at Should Be Reading.

Anyone can play along, just do the following:

01. Grab your current read and open to a random page
02. Share two (2) "teaser" sentences from somewhere on that page, but BE CAREFUL NOT TO INCLUDE SPOILERS! (Make sure that what you share doesn't give too much away! You don't want to ruin the book for others!)
03. Share the title and the author, too, so other TT participants can add the book to their TBR List if they like your teaser!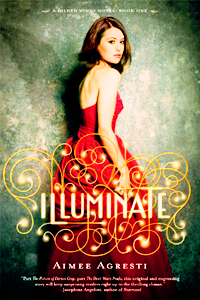 Illuminate
By Aimee Agresti
Publisher: Harcourt Children's Books
Publish Date: March 6, 2012
Format: Hardback, pp 528
Age Demographic: Young Adult
b&n // amazon

"Calliope just smiled, perfect and gleaming. She flicked her head and that was it. The man wandered over to our platform, staring up at her. She beckoned him with her slim fingers. Then she and Raphaella looked knowingly at each other." (pp 61)

Haven Terra is a brainy, shy high school outcast. But everything begins to change when she turns sixteen. Along with her best friend Dante and their quiet and brilliant classmate Lance, she is awarded a prestigious internship in the big city— Chicago—and is sent to live and work at a swanky and stylish hotel under the watchful eyes of a group of gorgeous and shockingly young-looking strangers: powerful and alluring hotel owner Aurelia Brown; her second-in-command, the dashing Lucian Grove; and their stunning but aloof staff of glamazons called The Outfit.

As Haven begins falling for Lucian, she discovers that these beautiful people are not quite what they seem. With the help of a mysterious book, she uncovers a network of secret passageways from the hotel's jazz-age past that leads her to the heart of the evil agenda of Aurelia and company: they're in the business of buying souls. Will they succeed in wooing Haven to join them in their recruitment efforts, or will she be able to thwart this devilish set's plans to take the souls of her classmates on prom night at the hotel?

Illuminate is an exciting saga of a teen's first taste of independence, her experience in the lap of luxury, and her discovery she may possess strength greater than she ever knew.

*Summary taken from Goodreads.
Oh my gosh. Let me just tell you guys, I am so in love with this book that I just want to marry it. Really, it's that good and I love Amiee's beautifully lush and descriptive writing style, it's really creative and the story is completely compelling and definitely engaging. This is a MUST READ for everyone, seriously. Plus, she has to be absolutely the most sweetest person. I just adore her tweets and how she's so receptive of book bloggers in general.