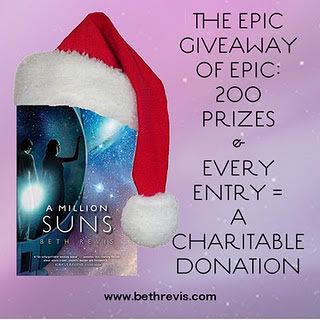 Okay, so apparently the incredibly fabulous Beth Revis hosted an EPIC GIVEAWAY last year and this year, she's turned that SAME GIVEAWAY into a giveaway that somehow makes that one pale in comparison. No, really. She does. Instead of 100 prizes, she's doubled it to 200 prizes that she's giving away. How freakin' awesome is that?!

Who wouldn't want to win?

And the awesome thing about is, that for everyone who enters this extremely generous giveaway, Beth is going to be donating a $1 to World Vision, the charity of her chosing. Want to know more about this, check out the video on youtube below.
So go, check this out, and tell all of your fellow bloggers about it. Tweet about it, blog about it, post to Facebook about it. Just tell ANYONE and EVERYONE who will listen about it. It's awesome prizes, but more than that it's about charity and helping to spread good will and instill a more positive attitude towards humanity.