❝YA AUTHOR'S APPRECIATION FEATURING❞

SUZANNE COLLINS

©MOLLI @ ONCE UPON A PROLOUGE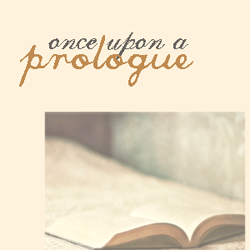 When Suz asked me if I would like to help her ring in the New Year on her blog by talking about an author who changed the way I read books, Suzanne Collins seemed like a logical choice. While there have been several other authors whose books reached out and grabbed hold of my heart, none have done so quite like Suzanne did with The Hunger Games series. It's been a just a month or so shy of a year since I finished Mockingjay, the final novel in the trilogy, and wrote a tearful review, and I still think about the books almost every day. I think it's safe to say Suzanne made an impression on me, just as she has many other readers. And while it's almost a given to say the trilogy is on my mind thanks to the movie buzz and the (fantastic) trailers that are out now, it goes beyond that for me. The Hunger Games trilogy has a place forever in my heart.

I can't rightly recall why I picked up the first book. I remember I was in WalMart (curses to my little town, who has no true bookstore) and I remember I had heard about the trilogy from a friend or two, but see, I didn't read YA books at that time. I'd read and loved Harry Potter, and Twilight (though I have a love/hate relationship with the latter), and I really enjoyed Richelle Mead's Vampire Academy series, but that was it. I was back in that place where I was reading mostly old favorites, not really venturing outside of my comfort zone by trying many new authors, and I can admit it: I was a bit of a book snob. I had reverted back to that place where I thought I couldn't read YA novels since I was an adult.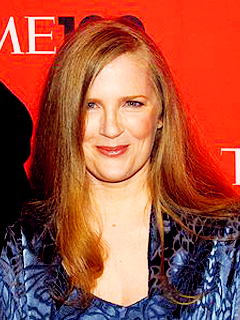 Suzanne Collins proved me wrong, on so many levels. She crafted these books that…changed me. The story she chose to tell (or more likely, it chose her) was so beautiful, so poignant, somewhat scary and gritty, and oh-so-real. The characters are ones who linger with you long after closing the book, because if you're like me, you felt as if you knew them by the time you read those final pages. I know they are fictional, but to this day, I still think about Katniss and Peeta and Gale. I still tear up when I read "real or not real." My heart still aches for Gale Hawthorne, and I still want to stretch my arms out and fold him up in a huge hug. I can't read passages with Finnick Odair or Prim Everdeen in them without crying. I have this silly "favorite male characters" mental list I add to every so often, and in my years of reading, not many characters have ever made it on there – but Finnick did. I dream casted Ian Somerhalder as Finnick and became way too attached to his character. I have a personal canon version of Finnick and of Gale that I love just a bit more than I do their book versions.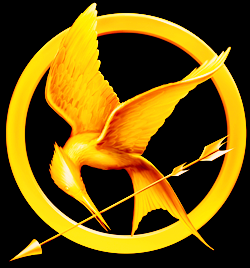 A couple of months ago, one of my best friends asked me if I wanted to try writing Gale/Katniss fan fiction with her. I'm not normally a fic-writing kind of girl. I write a great deal with my best friend – we have way too many original characters/families we've created. But when Kay asked, I took a chance and said "sure," and since then, we've branched out into lovingly writing several various AU stories for THG fandom, all of which has just made me love the books even more, and has brought us closer as friends. Some people dismiss fan fic; others think it is an insult to the author, but I think when well done, it is the highest compliment one can pay an author. It says, "your writing has made an impact on my life."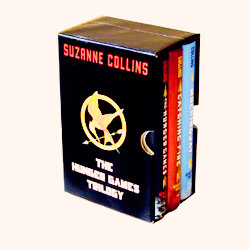 Since reading The Hunger Games trilogy, I haven't once said, "I'm too old to read that," in reference to any book. I have discovered a newfound love of YA novels. I started my book blog in March in order to reach out to fellow bookworms, and I found this community of bloggers that has become kind of my home-away-from-home. Instead of Monday, Tuesday, Wednesday, my life now includes "Teaser Tuesday," "Waiting on Wednesday," and squee'ing when my blog gains each new follower, when I make each new connection. And I attribute that to The Hunger Games. If I hadn't picked up the first book and read it, and enjoyed it enough that I HAD to have Catching Fire and Mockingjay, I never would have started pushing myself out of my safe boundaries and reading different books, new authors and genres. And I might never have followed in Suz's brave footsteps and created my blog. I wouldn't be here, with all of y'all, preparing for another year, a new year, of blogging, and reading, and loving life.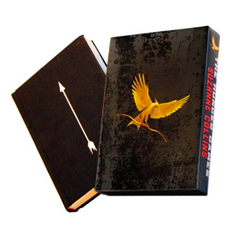 So thank you, Suzanne Collins. You wrote a trilogy that made me take a look around, at myself, and at what I was reading. The Hunger Games made me a little more self-aware. It strengthened friendships, and made me curious to see what YA lit was all about. The Hunger Games got me writing again when I was afraid I'd lost the magic, trying new kinds of writing, pushing me out of my comfort zone, and sparking my creativity. And it brought me to the book blogging community, in a roundabout way.

The Hunger Games is more than a story about a girl who was on fire. It's about love. Life. Dreaming, passion. It's about family, friends. It's about how one idea can always, always, anytime, any day, change our world. The trilogy certainly changed me and the way I read and what books and ideas I'm open to, so I am thankful every day for Suzanne Collins and all the heart and magic she poured into The Hunger Games trilogy.
❝See The Trailer For the Movie❞