"26-year-old self-publishing wunderkind" (New York Times) Amanda Hocking made national headlines by selling over a million copies of her self-published eBooks, landing major publishing and film deals that were widely covered across all media. On January 3, 2012, St. Martin's Griffin is thrilled to bring her USA Today bestselling Trylle trilogy to print with the publication of Switched, followed by Torn on February 28th, and Ascend on April 24th.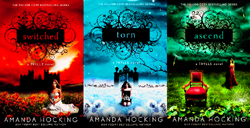 Set in the magical world of the Trylle--a tribe of beautiful trolls, this unique series captured the imaginations of eBook readers everywhere and became an online phenomenon, quickly catapulting her to the bestseller lists. With the publication of trade paperback editions of the books, a wider audience will finally get to discover its magic, mystery and romance. And as an added bonus, each of the new trade paperback editions will contain all-new, never-before-seen short stories set in the magical world of the Trylle.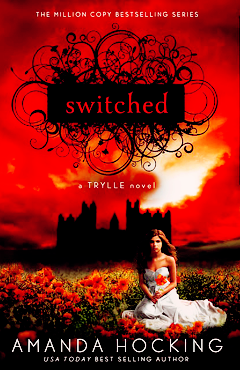 Switched
By Amanda Hocking
Publisher: St. Martin's Griffin
Publish Date: January 3, 2012
Format: Paperback, pp 336
Age Demographic: Young Adult
b&n // amazon

In Switched, Wendy Everly's mother is convined she's a monster and tries to kill her when she's six years old. Eleven years later, Wendy discovers her mother ma have been right. Finn Holms, a boy from her school whoshe's always been drawn to, reveals that he's not human...and neither is she. For months Finn has been gaurding her from a distance--and now it's time to bring her back to her rightful home, and reveal her true identity as a member of the Trylle. Wendy finds she's about to enter a world that's as frightening as it is beautiful. Where she'll tap into powers she never knew she had--and fight enemies who want to use her abilities for evil.
You guys are in luck, because I am giving away a super fabulous SIGNED COPY OF SWITCHED by Amanda Hocking, here on the blog. All you have to do is fill out the Rafflecopter form below, leave a comment on THIS BLOG POST with your name, a link to your blog, and your email address so that I can contact you once the winner has been chosen. The winner will have 48 hours to contact me and if they don't, then I will have to choose another winner. So, please email me back because I would hate to have to do that. Also, this giveaway is for U.S. Residents only. Sorry International's, I'll try to do something nice for you guys sometime in the new year.
a Rafflecopter giveaway
I will be posting a review for Switched during the first week of January, as to coincide with the date the book is being released. So, defintiely be on the look out for that.