This meme is brought to you weekly by MizB over at Should Be Reading.

Anyone can play along, just do the following:

01. Grab your current read and open to a random page
02. Share two (2) "teaser" sentences from somewhere on that page, but BE CAREFUL NOT TO INCLUDE SPOILERS! (Make sure that what you share doesn't give too much away! You don't want to ruin the book for others!)
03. Share the title and the author, too, so other TT participants can add the book to their TBR List if they like your teaser!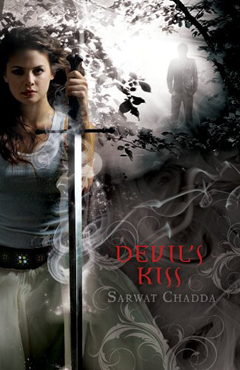 The Devil's Kiss
By Sarwat Chadda
Publisher: Disney Hyperion
Publish Date: September 1, 2009
Format: Paperback, pp 338
Age Demographic: Young Adult
b&n // amazon

"She'd been excited at first, being part of something big, mystical, the stuff of legend. Being part of the Knights Templar and their secret war against the enemies of mankind. The Unholy. The beats within: mortals with the heart of the wild. The hungry dead: corpse-eaters and blood-drinkers." (375 of 3830 ;; kindle edition)

As the youngest and only female member of the Knights Templar, Bilquis SanGreal grew up knowing she wasn't normal. Instead of hanging out at the mall or going on dates, she spends her time training as a soldier in her order's ancient battle against the Unholy.

Billi's cloistered life is blasted apart when her childhood friend, Kay, returns from Jerusalem, gorgeous and with a dangerous chip on his shoulder. He's ready to reclaim his place in Billi's life, but she's met someone new: amber-eyed Michael, who seems to understand her like no one else, effortlessly claiming a stake in her heart.

But the Templars are called to duty before Billi can enjoy the pleasant new twist to her life. One of the order's ancient enemies has resurfaced, searching for a treasure that the Templars have protected for hundreds of years—a cursed mirror powerful enough to kill all of London's firstborn.

To save her city from catastrophe, Billi will have to put her heart aside and make sacrifices greater than any of the Templars could have imagined.

*Summary taken from Goodreads.
Oh my gosh! I LOVE THIS BOOK!!! Seriously, it's beautifully written, the writing style is just as amazing as the author's attention to historical detail, and it's just so good. Plus, I love how strong the female protagonist seems to be. She's extremely intelligent and self-sufficient.