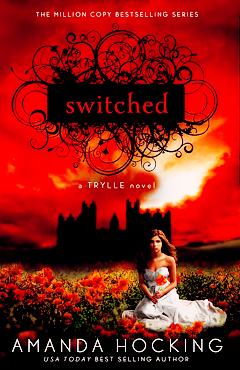 Switched
By Amanda Hocking
Publisher: St. Martin's Griffin
Publish Date: January 3, 2012
Format: Hardback, pp 336
Age Demographic: Young Adult
b&n // amazon

"I try to think of the days that led up to that one to see if I missed something about her, but I have no memory of her before then. I have some memories of my childhood, and I can even remember my dad, who died when I was five, but not her." (pp ;; 01)

When Wendy Everly was six-years-old, her mother was convinced she was a monster and tried to kill her. It isn't until eleven years later that Wendy finds out her mother might've been telling the truth.

With the help of Finn Holmes, Wendy finds herself in a world she never knew existed - and it's one she's not sure if she wants to be a part of.

*Summary taken from Goodreads.
❝My Thoughts❞
Switched is an alluring, richly beautiful blend of dark gothic fantasy meets fairytale. It is a powerfully seductive and suspenseful paranormal romance, that is cleverly written, and gives a unique twist to the magical fantasy realms Hocking creates. Her words bring life to the pages, with stunning imagery that puts readers right inside the pages. She creates a world of memorable characters that possess flawless traits, which sets them apart from other characters in most young adult paranormal romance novels. They are richly developed character's that are compelling and likable, yet sympathetic to readers. They will leave readers wanting the best for them.

Wendy is a wonderfully strong female anti-heroine unlike any other I've read in young adult fiction, which is a breath of fresh air. It is interesting to see her struggle with all of the obstacles that cross her path and then have to shoulder responsibilities no one her age, should have to do and do it all with beautiful strength and courage. The character growth that Hocking applies to Wendy throughout this book, is extremely well executed. She does a phenomenal job at tapping into that emotional well of fear, mystery, intrigue, and the greater responsibility that weighs upon her shoulders. She has a whole new world to discover that comes along with duty, honor, sacrifice, and destiny.

Finn Holmes, is a marvelously written mysteriously sexy guardian that is tasked with keeping her safe and returning her to her rightful home. For months he has been doing this, until he reveals his true identity to Wendy. He is not human and just as her mother feared, she isn't either.

The way in which Hocking handles this development in plot, is wonderfully masterful and the emotional relationship that she slowly works to build between these two, is beautifully realistic and fantastically written. They way it progressed, was captivating as it showcased strong qualities and interesting quirks. It seemed as if they were two halves of a whole coming together and it was incredibly heart-breaking and filled with beautiful passion, angst and longing.

Incredible character arcs are fleshed out, with beautiful storytelling abilities. Her villains are wildly dark and thrilling. They are mysteriously alluring individuals capable of danger unlike any other reader's will discover in young adult literature. The level of world building, including this breath-taking new realm of paranormal fantasy that she's created will have reader's clamoring for more. Her unique and clever decision to tell such a dark and compelling magical fantasy filled tale full of trolls versus the usual vampires and werewolves, makes her stand out apart from the usual paranormal novels on shelves. This world is both frightening as it is beautiful, which makes it so beguiling and filled with dark illustrious seductive charm. There is danger, heart-stopping action, and intrigue that fill the wonderful pages of this novel. Readers will simply not be able to put it down until the last page has been turned.

There seems to be underlying hints of psychological darkness that sort of shadows the story being told, which gives it another edge. There are incredible amounts of mystery and deeply hidden secrets that begin to unravel as the story progresses, that will keep readers engaged. With cleverly written characters, unique storylines that will hook readers, and elaborately rich dark and compelling characters Switched is a book that readers will be unable to put down. Readers who enjoy dark fantasies involving the paranormal such as Tolkien's Lord of the Rings, the brilliant writing style of J.K. Rowling's Harry Potter series, or the beautiful dark gothic richness of Margaret Stohl's Beautiful Creatures are sure to enjoy the dark and wonderfully lush magical realms of The Trylle.
Favorite Quote



"For a moment, I couldn't breathe or move. All I could see was the painting of me. The broken shards of glass glinting in the moonlight. My beautiful dress, which appeared stark white by the light of the moon, with the slit of blood in the side. The vast darkness that went on beyond the balcony, and the horrified look on my face as I reached for it."


{pp ;; 275-76}
❝Watch The Trailer...❞

{ This ARC was provided by St. Martin's Press, in exchange for an honest review which I have provided. No money exchanged hands, I review books for fun because I love to read. I am not interested in monetary gain. Any piece of this ARC that was or wasn't quoted, is not part of the finished product and should not be perceived as such. Instead, you should compare and check it against a finished copy once it is released.}