This meme is brought to you weekly by MizB over at Should Be Reading.

Anyone can play along, just do the following:

01. Grab your current read and open to a random page
02. Share two (2) "teaser" sentences from somewhere on that page, but BE CAREFUL NOT TO INCLUDE SPOILERS! (Make sure that what you share doesn't give too much away! You don't want to ruin the book for others!)
03. Share the title and the author, too, so other TT participants can add the book to their TBR List if they like your teaser!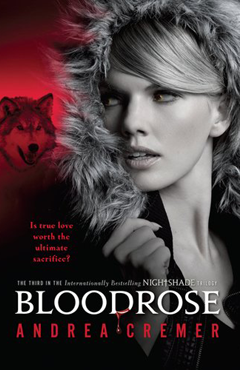 Bloodrose
By Andrea Cremer
Publisher: Philomel
Publish Date: January 3, 2009
Format: Paperback, pp 416
Age Demographic: Young Adult
b&n // amazon

"I could hear each heavy beat of my heart. The sound seemed to ebb from my veins out of my body, traveling across the empty space between the shimmering portal and the dark house.

He was there. I had no doubt. Though I couldn't see him or even catch the slightest hint of his warm, smoky scent, I knew he was there. Waiting for me. But why? Why would Ren come to this lonely place?" (pp ;; 13 )

The Ultimate Sacrifice.

Calla has always welcomed war. But now that the final battle is upon her, there's more at stake than fighting. There's saving Ren, even if it incurs Shay's wrath. There's keeping Ansel safe, even if he's been branded a traitor. There's proving herself as the pack's alpha, facing unnamable horrors, and ridding the world of the Keepers' magic once and for all. And then there's deciding what to do when the war ends. If Calla makes it out alive, that is.

In the final installment of the Nightshade trilogy, New York Times bestselling author Andrea Cremer creates a novel with twists and turns that will keep you on the edge of your seat until its final pages. A dynamic end to this breathtaking trilogy.

*Summary taken from Goodreads.
You guys! I am SO EXCITED to read the final installment of this highly intense, awe-inspiring, powerfully emotional trilogy. I cannot believe this is the end. I'm kind of sad, but I know it's going to be so heart-wrenching and amazing. And seriously, that cover?! TO DIE FOR!!!