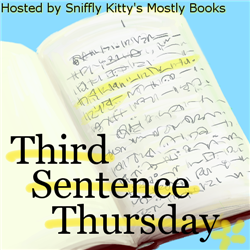 Third Sentence Thursday is a nifty little weekly meme hosted by Sniffly Kitty's Mostly Books.

1) Take the book you are reading now and post the third sentence
2) Review this sentence anyway you want (funny and silly reviews encouraged)
3) Post a link to your sentence here or if you don't have a blog, just post it in the comments!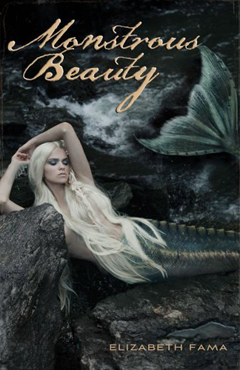 Monstrous Beauty
By Elizabeth Fama
Publisher: Farrar Straus Giroux
Publish Date: August 21, 2012
Format: Hardback, pp 304
Age Demographic: Young Adult
b&n // amazon

"She never dared to approach or reveal herself. A year of stealth had taught her his language, his habit, his dreams, his ways. The more she knew, the more she loved. The more she loved, the more she ached." (pp ;; 02)

Monstrous mermaids, ghosts, and a century-old curse feature in this beautifully crafted, compulsively readable thriller.

In 1872, mermaild Syrenka falls in love with a young naturalist. When she abandons her life underwater for a chance at happiness on land, she is unaware that this decision comes with horrific and deadly consequences.

One hundred thirty years later, seventeen-year-old Hester meets a mysterious stranger and feels drawn to him in a way she can't explain or resist. For generations, love and death have been inextricably linked for the women of her family. It is an undiagnosed genetic defect...or a curse?

Hester's investigation of her family's strange, sad history leads her to the graveyard, the crypt, and the bottom of the ocean--but powerful forces will do anything to keep her from uncovering her connection to Syrenka and to the tragedy of so long ago.

*Summary taken from Goodreads.
So far, what I've read of this ARC, which isn't much has been amazingly well written and beautiful. It's almost lyrical in a sense and the history is rich and lush and I just know this is going to be a book that I am absolutely going to fall in love with, so fully of tragedy, mystery, intrigue, and heart-pounding sorrow and love. So excited to continue reading.
{Small Note: This book was received from ATW ARC Tours, in exchange for an honest review which I will provide in a timely manner. No money exchanged hands, I review books for fun because I love to read. I am not interested in monetary gain.

The review will be coming shortly, any quotes or references may be subject to change once the novel is finalized and released.}