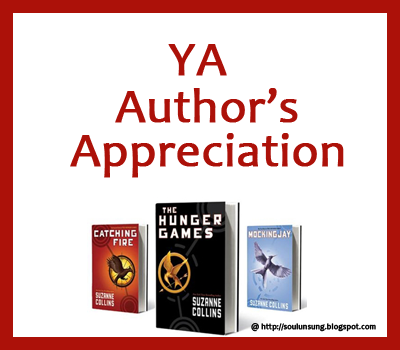 For those of you who were AWESOME enough to write guest posts to be featured in my YA AUTHOR'S APPRECIATION EVENT I wanted to say a couple of things...

One. THANK YOU, SO MUCH FOR ALL OF YOUR WONDERFUL POSTS!

Really, I totally enjoyed reading all of them and posting them. Plus, I loved some of the little discussions that they all sparked, too. It was such a great turn out, that I'm actually thinking about doing this again next year at the same time, and possibly budgeting to host a couple of giveaways during it as well, just to spice it up a bit.

Two. It's not over. Starting on Monday, I'm going to go back to posting the rest of the "guest posts" that haven't already been posted, one a day until they have all been posted. The reason, I haven't been as consistent with them is because, I ended up getting extremely sick the Friday before Christmas and I didn't have much energy and was on some high powered antibiotics and just exhausted all of the time. I'm just now starting to get over the worst of it, but still taking the remainder of my meds as well. So, I realize that it was supposed to end December 31st, but because so many of you awesome people wrote some many amazing "guest posts" I'm extending it to get everyone's posts up throughout the rest of this month. Plus, I think it's a great start to the new year as well. :)

So, just hang in there and know that if you haven't seen your post go up yet, it's going to be going within the next few weeks. I have a system and I'm coding out some and scheduling, and trying to get my blog back in order and on track now that I'm not quite as sick as I was. Seriously, I had like zip energy, for real.

Three. Following this post, there will be a Third Sentence Thursday featuring Elizabeth Fama's Monstorous Beauty. And tomorrow, I will be back with a Follow Me Friday and then on Monday, there will be a book review for Dragonswood and a "guest post" for the YA Author's Appreciation Event that I really want to get back on track now that I'm better. The coming week should be getting everything back together, caught up, and in order. I will be emailing those of you, whose "guest posts" I will be featuring as I'm featuring them and I will also be getting in touch with the winner for my giveaway, getting all of their details, and announcing that as well.

Thanks, for hanging in there with me!