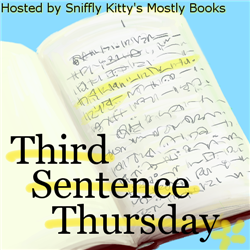 Third Sentence Thursday is a nifty little weekly meme hosted by Sniffly Kitty's Mostly Books.

1) Take the book you are reading now and post the third sentence
2) Review this sentence anyway you want (funny and silly reviews encouraged)
3) Post a link to your sentence here or if you don't have a blog, just post it in the comments!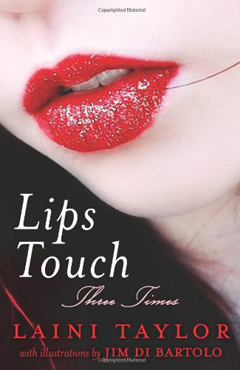 Lips Touch Three Times
By Laini Taylor
Publisher: Scholastic
Publish Date: October 1, 2011
Format: Hardback, pp 288
Age Demographic: Young Adult
b&n // amazon

"The pert, lovely ones with butterfly tattoos in hidden places, sitting on their boyfriends' laps? No, not them. The girls watching the lovely ones sitting on their boyfriends' laps? Yes. Them." (pp ;; 13)

Three tales of supernatural love, each pivoting on a kiss that is no mere kiss, but an action with profound consequences for the kissers' souls:

Goblin Fruit: In Victorian times, goblin men had only to offer young girls sumptuous fruits to tempt them to sell their souls. But what does it take to tempt today's savvy girls?

Spicy Little Curses: A demon and the ambassador to Hell tussle over the soul of a beautiful English girl in India. Matters become complicated when she falls in love and decides to test her curse.

Hatchling: Six days before Esme's fourteenth birthday, her left eye turns from brown to blue. She little suspects what the change heralds, but her small safe life begins to unravel at once. What does the beautiful, fanged man want with her, and how is her fate connected to a mysterious race of demons?

*Summary taken from Goodreads.
I am in love with the narration and the illustrations that accompany these three short stories. I've only partially started reading it, but I can already tell that it's definitely going to be a book that I won't be able to put down until I've finished it in one sitting. It's just that interesting and captivating. A little different, but different can definitely be a good thing.
{Small Note: This book was received from Scholastic, in exchange for an honest review which I will provide in a timely manner. No money exchanged hands, I review books for fun because I love to read. I am not interested in monetary gain.

The review will be coming shortly, any quotes or references may be subject to change once the novel is finalized and released.}