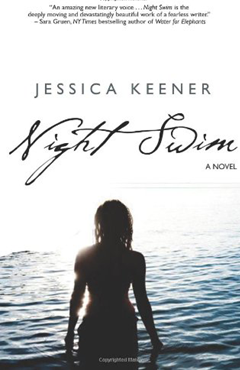 Night Swim
By:
Jessica Kener
Book Provided by Publisher via
TLC Book Tours
b&n
//
amazon
Published Date:
January 10, 2012
Publisher:
Fiction Studio
Book Format:
Paperback; pp 284
Age Demographic:
Young Adult
Sixteen-year-old Sarah Kunitz lives in a posh, suburban world of 1970 Boston. From the outside, her parents' lifestyle appears enviable – a world defined by cocktail parties, expensive cars, and live-in maids to care for their children – but inside their five-bedroom house, all is not well for the Kunitz family.

Coming home from school, Sarah finds her well-dressed, pill-popping mother lying disheveled on their living room couch. At night, to escape their parents' arguments, Sarah and her oldest brother, Peter, find solace in music, while her two younger brothers retreat to their rooms and imaginary lives. Any vestige of decorum and stability drains away when their mother dies in a car crash one terrible winter day.

Soon after, their father, a self-absorbed, bombastic professor begins an affair with a younger colleague. Sarah, aggrieved, dives into two summer romances that lead to unforeseen consequences. In a story that will make you laugh and cry, Night Swim shows how a family, bound by heartache, learns to love again.

*Summary taken from TLC Book Tours

.
❝My Thoughts❞
Night Swim is a fearlessly haunting portrait of a broken family, filled with deep thoughtful reckonings, heart-shattering greif, the uneasy feeling of spiraling out of control during a time of historical growth for a nation of chaos during the 1970's. It follows the story of a strong, passionate, and often times fierce young heroine who is made of steel, yet she is often filled with quiet vulnerabilities that has a way of drawing reader's in making them want to see inside her - see the quiet gentle soul of a young woman on the verge of something more. The nature and beauty that Keener put into this story, is enough to leave reader's breathless.

Sarah is so much more than what any reader would expect in a main herione, she's chalk full of so much grit and spit-fire and determintation to survive and overcome any obstacle thrown in her path. Her triumphs and sorrows, do wonderfully well at providing reader's with such a lyrically beautiful insight into who she is and what makes her a survivor. There is a tenderness and a wondering sense of beauty that makes this novel stand apart from any, I've personally read in the last year. Night Swim isn't just another book to be packed away on a shelf somewhere or stowed away in a box to collect dust. This is a deeply rich and highly emotional story that is sure to upset the delicate balance in anyone's world. The fact that Sarah gains so much of her strength in who she is from the relationships she shares with her brothers, parents, and other individuals present in her life is enough to remind reader's that just because something appears one way it doesn't necessarily mean that's the way it is.

This is a novel that is about keeping secrets, letting go, learning to live with the truth once it's out, and above all else: surviving insurmountable odds. One of the best things about this novel is the fact that Keener isn't afraid to tackle controversial topics and meets them head on, with strength and precision in her writing that's not only beautiful, but poetically lyrical in a sense. But above all else, this novel reminds me of something a really good friend of mine always says, "I have to believe that it will get better." Night Swim is the type of novel that will stay with reader's, leave them feeling in the wake of the aftermath, struggling just as much as to survive and find their independence as Sarah does, and will them thought provokingly emotional.

This is a novel not to be missed out on. One, that I highly suggest you read at least once, if not more.

The lovely and generous Jessica Keener and her publicists, have offered a copy of Night Swim to be given away to one lucky reader. So, these are the rules: 1. You must leave me your name and email address, that is mandatory so that I'll be able to contact you should you win. 2. You also must be a resident of the USA, sorry to my oversea's friends, I can't make it happen this time. But, soon. 3. And last but not least, just fill out the rafflecopter below and you're in!
a Rafflecopter giveaway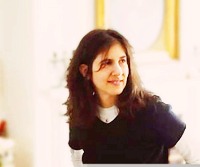 Jessica Keener
has been listed in
The Pushcart Prize
under "Outstanding Writers." Her fiction has appeared most recently in:
Connotation Press: An Online Artifact
,
Night Train
, and
Wilderness House Literary Review
. A recipient of a Massachusetts Cultural Council Artist's Grant Program, and second prize in fiction from
Redbook
magazine, her feature articles have appeared in
The Boston Globe
,
Design New England
,
O
,
The Oprah Magazine
and other national publications.
Night Swim
is her first novel.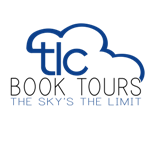 Note: That last link above in the bulleted list, is where you can find the rest of the book tour stops and read some more fascinating and insightful reviews of
Night Swim
by
Jessica Keener
.
{ This book was received from Fiction Studio via TLC Book Tours, in exchange for an honest review which I have provided. No money exchanged hands, I review books for fun because I love to read. I am not interested in monetary gain.}