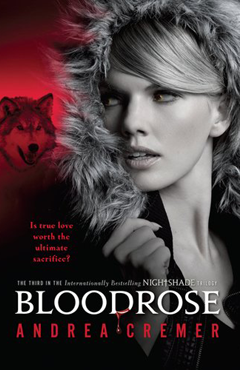 Bloodrose
By Andrea Cremer
Publisher: Philomel
Publish Date: January 3, 2009
Format: Paperback, pp 416
Age Demographic: Young Adult
b&n // amazon

"I could hear each heavy beat of my heart. The sound seemed to ebb from my veins out of my body, traveling across the empty space between the shimmering portal and the dark house.
He was there. I had no doubt. Though I couldn't see him or even catch the slightest hint of his warm, smoky scent, I knew he was there. Waiting for me. But why? Why would Ren come to this lonely place?" (pp ;; 13 )

The Ultimate Sacrifice.

Calla has always welcomed war. But now that the final battle is upon her, there's more at stake than fighting. There's saving Ren, even if it incurs Shay's wrath. There's keeping Ansel safe, even if he's been branded a traitor. There's proving herself as the pack's alpha, facing unnamable horrors, and ridding the world of the Keepers' magic once and for all. And then there's deciding what to do when the war ends. If Calla makes it out alive, that is.

In the final installment of the Nightshade trilogy, New York Times bestselling author Andrea Cremer creates a novel with twists and turns that will keep you on the edge of your seat until its final pages. A dynamic end to this breathtaking trilogy.

*Summary taken from Goodreads.
❝My Thoughts❞
Bloodrose is a thrilling, capitvating, action-packed ending to a wonderful trilogy written by the lovely Andrea Cremer. It does a marvelous job in picking up where Wolfsbane left off, with a few unexpected twists and turns that reader's won't be expecting. There's epic danger, intense emotion, and incredible action that will leave reader's breathless with anticipation. The balance between everything from highly intense emotion to danger filled action is handled with great care, up until the end which is the only exception in my personal opinion. The world she has created is filled with amazing character's, heart-breaking tragedy, loss, betrayal, and heart-pounding love. It's brilliantly creative and will stay with reader's, whether good or bad.

It was absolutely wonderful to see Ren back, he was always such a brilliantly dark, mysterious, and thrilling character to read. He won my heart immediately and never lost it. It was interesting to witness the dynamic between both him and Shay in this final installment to this series, and Calla's part that she had to play obviously. The love triangle was enough to leave reader's breathless in anticipation of Calla's decision to come, after the war. I liked seeing these two males who normally assert their alpha's having to find a way to work together for the benefit of the pack and fight the war alongside one another.

While it was nice to see Calla grow in character development and assert her own alpha leadership in order to fight the war with everything she had to give, I feel as if it made her a weaker individual. She's so far from being the Calla that I personally fell in love with in Nightshade. There were moments where I grew disappointed in her and disappointed in the direction that I feared the novel was headed in. It pains me greatly to say this, as this is a series that I immediately became enamored with, but I would be remiss if I didn't say that I personally feel as if it's quite weak to create a heart-aching tragedy just so the main herione doesn't have to make the choice she's obviously going to have to make at the end of the book. It was un-fair and completely unbalanced all together and incredibly hard to swallow.

I honestly don't know that I can say that Bloodrose was a fantastic ending to a wonderful trilogy, but I can say that it was wildly passionate, thrilling, and captivating up until the ending which I cannot agree with personally. I understand other's may disagree, so don't just take my words for it, read it for your ownself and then you decide whether you agree or disagree. Without any doubts at all, I can say that the journey has been immensely painfully amazing and highly emotionally un-expected and for those reasons alone you should read it.

{Small Note: This book was received from ATW ARC Tours, in exchange for an honest review which I will provide in a timely manner. No money exchanged hands, I review books for fun because I love to read. I am not interested in monetary gain.}