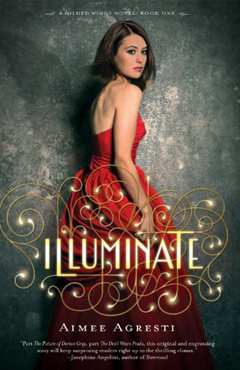 Illuminate
By Aimee Agresti
Publisher: Harcourt Children's Books
Publish Date: March 6, 2012
Format: Hardback, pp 528
Age Demographic: Young Adult
b&n // amazon

Haven Terra is a brainy, shy high school outcast. But everything begins to change when she turns sixteen. Along with her best friend Dante and their quiet and brilliant classmate Lance, she is awarded a prestigious internship in the big city— Chicago—and is sent to live and work at a swanky and stylish hotel under the watchful eyes of a group of gorgeous and shockingly young-looking strangers: powerful and alluring hotel owner Aurelia Brown; her second-in-command, the dashing Lucian Grove; and their stunning but aloof staff of glamazons called The Outfit.

As Haven begins falling for Lucian, she discovers that these beautiful people are not quite what they seem. With the help of a mysterious book, she uncovers a network of secret passageways from the hotel's jazz-age past that leads her to the heart of the evil agenda of Aurelia and company: they're in the business of buying souls. Will they succeed in wooing Haven to join them in their recruitment efforts, or will she be able to thwart this devilish set's plans to take the souls of her classmates on prom night at the hotel?

Illuminate is an exciting saga of a teen's first taste of independence, her experience in the lap of luxury, and her discovery she may possess strength greater than she ever knew.

*Summary taken from Goodreads.
❝My Thoughts❞
Illuminate is an exciting mystical tale full of independence intermingled with luxurious splendor, and the knowledge of greater strength yet to be discovered. It is a cleverly written and breath-taking whirlwind of intrigue with a rich and wildly dark but compelling story arc. Powerfully alluring and filled with beautiful people and dark illustrious sinister plots sure to hook readers and draw them in this enthralling and enchanting world. It isn't just another novel involving angels. It's so much more than that, boldly daring to be extraordinarily original. It is a tale readers won't be forgetting anytime soon, as it transports them to a magical place full of mystery, power, and undeniable suspense.

It is a lively and highly influencing story filled with dark and alluring characters. The beautiful people, as they're referred to, full of so much power, flawed realistically, and fascinating mystery. Their tale is wondrous and will draw readers in and keep them enchanted and mesmerized. These are characters that are not to be forgotten anytime soon. Haven is such a delightful heroine to get to know and is well developed as the novel progresses. She is such a lovely well-rounded fearless character that possesses such a likeable quality, filled with compassion and intelligence. The romance she shared with Lance was one of the sweetest things about the novel. It's incredibly easy to connect with these magnificently written characters, as Agresti writes them in such a realistic and delightfully enjoyable way.

Illuminate is filled with wonderful twists and turns that will surely leave readers intrigued with the mystery all the way through to the end. It is such a beautifully written fast-paced, well-developed action packed tale full of heart stopping danger and wonderfully sinister villains with dark agendas of their own. It's exciting and daring and highly original, it is sure to make Agresti a fast favorite and stand out in the world of young adult fiction. Agresti is an amazing new debut author bursting onto the scene with such a captivating and compelling novel that readers are sure to love. Fans of the illustrious Michelle Zink, the awe-inspiring richly dark tales of Lauren deStefano, and the intriguing writing style of Kimberly Derting will be sure to enjoy this wonderful pulsating novel full of wonder and amazement.

{ This ARC was provided by ATW ARC Tours, in exchange for an honest review which I have provided. No money exchanged hands, I review books for fun because I love to read. I am not interested in monetary gain. Any piece of this ARC that was/wasn't quoted, is not part of the finished product and should not be perceived as such.}