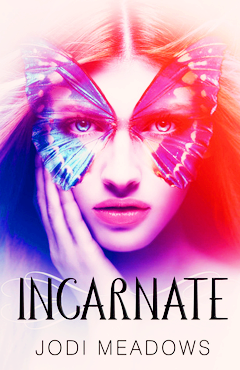 Incarnate
By Jodi Meadows
Publisher: Katherine Teagan Books
Publish Date: January 31, 2012
Format: Hardback, pp 384
Age Demographic: Young Adult
b&n // amazon

NEWSOUL
Ana is new. For thousands of years in Range, a million souls have been reincarnated over and over, keeping their memories and experiences from previous lifetimes. When Ana was born, another soul vanished, and no one knows why.

NOSOUL
Even Ana's own mother thinks she's a nosoul, an omen of worse things to come, and has kept her away from society. To escape her seclusion and learn whether she'll be reincarnated, Ana travels to the city of Heart, but its citizens are suspicious and afraid of what her presence means. When dragons and sylph attack the city, is Ana to blame?

HEART
Sam believes Ana's new soul is good and worthwhile. When he stands up for her, their relationship blooms. But can he love someone who may live only once, and will Ana's enemies—human and creature alike—let them be together? Ana needs to uncover the mistake that gave her someone else's life, but will her quest threaten the peace of Heart and destroy the promise of reincarnation for all?

Jodi Meadows expertly weaves soul-deep romance, fantasy, and danger into an extraordinary tale of new life.

*Summary taken from Goodreads.
❝My Thoughts❞
Incarnate is a gorgeous heart pounding take on a deeply gratifying soul-searching love that spans lifetimes. It is that rare unique read that will leave readers gasping for the answers to the questions as they unfold before them. Meadow's does a lovely job of weaving together a beautifully written emotionally gripping story about love and reincarnation that is thought provoking and wildly imaginative. Her imagery paints a picture of a richly filled magical world full of fire-breathing dragons, sylph's, a city with a wall that has a pulsing heartbeat, and action-packed danger waiting around every corner.

The world that Meadow's has created is vividly bright and entrancing. Cleverly written, it has a unique way of putting readers in the story, where they can almost reach out and touch the wall of Heart and feel it pulsating beneath their fingertips. The society that she creates and sets up in this novel, is quite phenomenal and enthralling. From the way the library is set up, how all of the records and diaries are cataloged into the system and recorded, and the brilliantly interesting way that time is kept in calendar by the season in which things happened or occurred. It will leave readers craving more knowledge in how the Society was set up and the mythos or spiritual beliefs that are attached to Heart and Janan.

Meadow's characters are awe-inspiring and magnificently developed. The story arc, is just as masterfully crafted and quite intriguing as her characters. Ana is an extremely strong, courageous, and beautifully compelling new soul that embarks on a journey to not only find herself, but to find her place in this life if it's the only one she has to live unlike the other reincarnated souls who inhabit Heart. She is quite determined to not let anything deter her, in any sense or capacity and has willingly faced danger head on when it comes to saving the life of someone she truly cares a great deal about. Along the way she faces insurmountable odds, endures what seems like a lifetime of abuse at the hands of Li (her mother), nearly drowns, is attacked and burned by a sylph twice, and risks her own life to protect Sam from a fire-breathing dragon.

However, she comes with her own set of flaws, such as being quite defensive a good portion of the time and coming to terms with what or who exactly, she is. One could say, that it's quite a bit hard for her to trust anyone, given the circumstances that have surrounded her and what she's had to face most of her new life. Sam (Dossam) is a wonderful character, himself, who is kind, compassionate, and caring. He's willing to give her the chance, that no one else in Heart seems to want to do. Where Ana always seems to refer to herself as "no soul", he corrects her that she's a "new soul." These two together, grow to become friends slowly while learning to trust the other, and have faith in them that they will not disappoint. The close friendship or bond that is there between them, slowly and naturally progresses into a deep soul-searching love that is quite breathtaking to read.

Incarnate is a brilliantly written fast-paced novel filled with extraordinary fantasy, overwhelming danger looming around every corner, and soul-searching questions that will resonate with readers on a deeper level. It is a book to be read, cherished, and loved. Those who enjoy the particular writing styles of Tahereh Mafi, Jennifer E. Smith, Julie Cross, or Sarah Ockler are sure to enjoy this highly suspsensful and imaginative beautiful piece of fantasy fiction.

{Small Note: This book was received from DAC ARC Tours, in exchange for an honest review which I will provide in a timely manner. No money exchanged hands, I review books for fun because I love to read. I am not interested in monetary gain.}