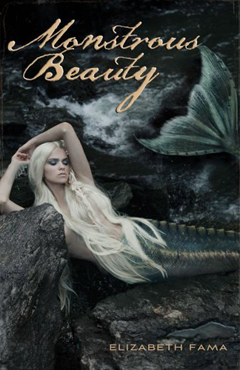 Monstrous Beauty

By Elizabeth Fama

Publisher: Farrar Straus Giroux

Publish Date: August 21, 2012

Format: Hardback, pp 304

Age Demographic: Young Adult

b&n // amazon


"She never dared to approach or reveal herself. A year of stealth had taught her his language, his habit, his dreams, his ways. The more she knew, the more she loved. The more she loved, the more she ached." (pp ;; 02)



Monstrous mermaids, ghosts, and a century-old curse feature in this beautifully crafted, compulsively readable thriller.



In 1872, mermaild Syrenka falls in love with a young naturalist. When she abandons her life underwater for a chance at happiness on land, she is unaware that this decision comes with horrific and deadly consequences.



One hundred thirty years later, seventeen-year-old Hester meets a mysterious stranger and feels drawn to him in a way she can't explain or resist. For generations, love and death have been inextricably linked for the women of her family. It is an undiagnosed genetic defect...or a curse?



Hester's investigation of her family's strange, sad history leads her to the graveyard, the crypt, and the bottom of the ocean--but powerful forces will do anything to keep her from uncovering her connection to Syrenka and to the tragedy of so long ago.



*Summary taken from Goodreads.
❝My Thoughts❞
Monstrous Beauty is an intensely dark and seductive, richly compelling beautiful awe-inspiring mystical tale of fantasy. It is full of gorgeous heart-wrenching prose and stunning imagery. The world Fama creates is unlike any other and quite unique. It is just highly thought-provoking, gripping and filled with a tremendous amount of powerful emotion. It is just masterfully written and Fama does a wonderful job of drawing readers into an alluring tale full of mystery, deep hidden secrets, and a colorful cast of well established characters.

The idea that love is an undiagnosed genetic defect that runs in Hester's family, is a plot premise that I've personally not read yet and a breath of fresh air. It is certainly one that is very thought-provoking and well thought out on Fama's part. There are so many dark twists and turns through out this entire novel, that readers will be unable to put it down. There's something strange and sad about the history regarding Hester's family and the blending of past and present, was handled beautifully. So many memorable characters graced the pages, but the ones that managed to stay with me personally were Hester, Syrenka and Ezra.

It is incredibly heartbreaking that love as powerful as Syrenka's love for Ezra, would cause such horrific and deadly consequences. She was such an awe-inspiring and powerfully fierce character, that was so easily relatable and one can't help but feel inexplicably saddened at her predicament. She is not without her flaws, which is one of the things I grew to love about her. Syrenka is wild and animalstic and often acts on instinct rather than thinking before. To love so feircely and earnestly with everything she had, giving up as much as she gave up, and to only have it end in such tragedy is bound to strike a chord with any reader as they follow along with this story.

There is so much going on with this novel, from dark hidden mysteries from the depths of the murky sea, to ghosts, mermaids, and family curses. Monstrous Beauty is so full of tragedy, mystery, intrigue, and heart-pounding sorrow and love. It is such an action-packed, dark, and boldly rich tale of love and heartbreak, betrayal and murder filled with cunning villains, a strong herione that inspires, and breath-taking romance. Readers will not be disappointed with the dark and alluring tale that Fama has woven together.
{Small Note: This book was received from ATW ARC Tours, in exchange for an honest review which I will provide in a timely manner. No money exchanged hands, I review books for fun because I love to read. I am not interested in monetary gain.



The review will be coming shortly, any quotes or references may be subject to change once the novel is finalized and released.}