In April of this year, I was contacted by Caroline Rose about participating in the Class of 2k12. At that particular time my blog was less than three month's old, however, I was thrilled with the opportunity nonetheless. So, I set to work compiling a list of questions that would be circulated between 20 different new upcoming debut author's for 2012 and 15 of them picked between two and three of the questions and wrote their own little guest post to be posted here on my book blog, on the day their books release. The goal is to create as much buzz for these upcoming debut author's and their amazing books as bloggers can, by passing along the information and blogging about them.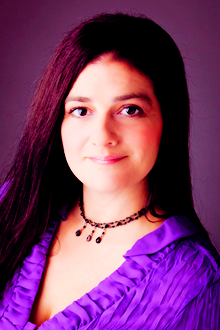 Megan's Website
|
Megan's Blog
Megan's Facebook
|
Megan's Twitter
Megan's Goodreads
|
Megan's Youtube
Today, I am lucky enough to have the wonderful and amazingly talented Megan Bostic here at my blog featuring her new debut young adult novel, Never Eighteen, with us which is releasing today and if I were you I would definitely pick up a copy and check it out. Okay, so I have to tell you guys, that I am extremely excited for this book to be released, because I've been dying to read it. I know that it's going to be one of those highly emotionally charged and intense novel's that's going to stay with you, much in the way that Jay Asher's Thirteen Reason's Why did. This is why you should be picking up a copy of this wonderfully compelling novel. Please, help me welcome the lovely and incredibly gifted Megan Bostic to my blog.
❝The Watchword Featuring❞

Megan Bostic
What type of writing environment or space do you typically do most of your writing in?

I actually have an office I've set up for my writing, but never find myself there. I like a lot of sunlight when I work, which is sometimes hard to find in the state of Washington (I am solar powered). I find though that writing at my kitchen table in front of my sliding glass door gives me enough light to inspire and motivate me into productivity.

Can you tell us a little bit about your upcoming book, without giving too much away?

Never Eighteen is a book about love, loss, and life. Seventeen-year-old Austin Parker is dying. His illness has helped him realize that you only get one shot at existence, so you'd better make the most of it. He takes a weekend journey with his best friend and secret crush, Kaylee, to face his fears, to do things he's never done, and go places he's never been. The most important part of his mission, however, is to visit the people in his life that he feels aren't really living, and try to make them see and understand the value of their lives.
Never Eighteen
By Megan Bostic
Publisher: Graphia
Publish Date: January 17, 2012
Format: Hardback, pp 204
Age Demographic: Young Adult
b&n // amazon

Austin Parker is on a journey to bring truth, beauty, and meaning to his life.

Austin Parker is never going to see his eighteenth birthday. At the rate he's going, he probably won't even see the end of the year. The doctors say his chances of surviving are slim to none even with treatment, so he's decided it's time to let go.

But before he goes, Austin wants to mend the broken fences in his life. So with the help of his best friend, Kaylee, Austin visits every person in his life who touched him in a special way. He journeys to places he's loved and those he's never seen. And what starts as a way to say goodbye turns into a personal journey that brings love, acceptance, and meaning to Austin's life.

*Summary taken from Goodreads.
❝Watch The Trailer❞
❝To Purchase a Copy❞
Amazon
|
Barnes&Noble
BooksAMillion
|
Book Depository
Thank you, so much Megan Bostic for stopping by the blog and for sharing this wonderful guest post with the rest of us. I wish you a ton of success with Never Eighteen as it looks like it's definitely going to be a beautifully written emotional rollercoaster, and I absolutely cannot wait to read it. To the rest of my fellow bloggers, I urge all of you to definitely pick up a copy of this book and read it and encourage other's to read it as well.