In April of this year, I was contacted by Caroline Rose about participating in the Class of 2k12. At that particular time my blog was less than three month's old, however, I was thrilled with the opportunity nonetheless. So, I set to work compiling a list of questions that would be circulated between 20 different new upcoming debut author's for 2012 and 15 of them picked between two and three of the questions and wrote their own little guest post to be posted here on my book blog, on the day their books release. The goal is to create as much buzz for these upcoming debut author's and their amazing books as bloggers can, by passing along the information and blogging about them.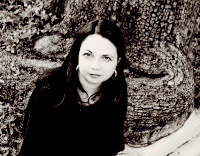 Robin's Website
|
Robin's Blog
Robin's Facebook
|
Robin's Twitter
Robin's Goodreads
|
Class of 2k12
Today, I am lucky enough to have the wonderful and amazingly talented Robin Bridges here at my blog featuring her new debut young adult novel, The Gathering Storm, with us which is releasing today and if I were you I would definitely pick up a copy and check it out. It looks like it's going to definitely be a compelling start of an epic journey that will leave you breathless and gasping for more, with each book released in the trilogy. So, please help me make her feel welcome here.
❝The Watchword Featuring❞

Robin Bridges
What type of writing environment or space do you typically do most of your writing in?


I spend most of my time in my cozy computer nook off of the living room. But sometimes I take a big notebook and sit in my car at the beach to plot. My car is my office-away-from-home!

Is there a specific way you go about research when writing your book, such as some of the things that inspired you to write this novel? Did you create a
playlist that helped you set the mood for your writing, were you inspired by other medium's or genres?

The playlist for the Katerina Trilogy consists mostly of Russian composers, like Tchaikovsky, Rimsky-Korsakov, and Borodin. There are also a few Orthodox hymns and Russian folk songs that would have been familiar to my characters in 1888 Russia. Some of the songs on my playlist are more modern though, like "The Hills of Manchuria", written in 1905, or Shostakovich's Second Waltz, which was composed in the 1950's. And then there are the songs like Rasputina's "Transylvanian Concubine", added in just for fun.
The Gathering Storm
By Robin Bridges
Publisher: Delacourte Books for Young Readers
Publish Date: January 10, 2012
Format: Hardback, pp 400
Age Demographic: Young Adult
b&n // amazon

St. Petersburg, Russia, 1888. As she attends a whirl of glittering balls, royal debutante Katerina Alexandrovna, Duchess of Oldenburg, tries to hide a dark secret: she can raise the dead. No one knows. Not her family. Not the girls at her finishing school. Not the tsar or anyone in her aristocratic circle. Katerina considers her talent a curse, not a gift. But when she uses her special skill to protect a member of the Imperial Family, she finds herself caught in a web of intrigue.

An evil presence is growing within Europe's royal bloodlines—and those aligned with the darkness threaten to topple the tsar. Suddenly Katerina's strength as a necromancer attracts attention from unwelcome sources . . . including two young men—George Alexandrovich, the tsar's standoffish middle son, who needs Katerina's help to safeguard Russia, even if he's repelled by her secret, and the dashing Prince Danilo, heir to the throne of Montenegro, to whom Katerina feels inexplicably drawn.

The time has come for Katerina to embrace her power, but which side will she choose—and to whom will she give her heart?

*Summary taken from Goodreads.
❝Watch The Trailer❞
❝To Purchase a Copy❞
Amazon
|
Barnes&Noble
BooksAMillion
|
Book Depository
This novel has such a beautiful cover, it's making me feel cold and winter-sy and the model on the cover is absolutely gorgeous. She kind of reminds me of either Bethany Joie Gaelotti or Lyndsy Fonseca. I could totally see either one of these wonderfully talented girls, playing Katerina if this triogy were ever made into a movie.

Thank you, so much Robin Bridges for stopping by the blog and for sharing this wonderful guest post with the rest of us. I wish you a ton of success with The Gathering Storm as it looks like it's definitely going to be a compelling start to a wonderful trilogy, and I absolutely cannot wait to read it. To the rest of my fellow bloggers, I urge all of you to definitely pick up a copy of this book and read it and encourage other's to read it as well.