In April of this year, I was contacted by Caroline Rose about participating in the Class of 2k12. At that particular time my blog was less than three month's old, however, I was thrilled with the opportunity nonetheless. So, I set to work compiling a list of questions that would be circulated between 20 different new upcoming debut author's for 2012 and 15 of them picked between two and three of the questions and wrote their own little guest post to be posted here on my book blog, on the day their books release. The goal is to create as much buzz for these upcoming debut author's and their amazing books as bloggers can, by passing along the information and blogging about them.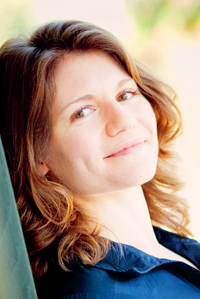 Caroline's Website
|
Caroline's Blog
Caroline's Facebook
|
Caroline's Goodreads
Today, I am lucky enough to have the lovelyCaroline Starr Rose here at my blog featuring her debut middle grade novel (she's also co-president and member of the Class of 2k12), May B, which is releasing today and you should definitely pick up a copy and check it out. It's a beautifully written story that introduces a strong new herione that I think young reader's and even older one's would definitely enjoy. It looks like it's going to be emotionally riveting, the kind of novel that will stay with you long after you've read it. Definitely check it out. Please, help me make her feel welcome here on the blog.
❝The Watchword Featuring❞

Caroline Starr Rose
What type of writing environment or space do you typically do most of your writing in?

I'm not a sit at a desk person and prefer working with a laptop on the couch, a bed, or in my (deskless) office. Before I graduated to my current office (a whole room to myself!), I worked from a 3'X4' closet. It kind of embarrassed my husband when house guests found out I used the space for writing. I think he felt people would assume he'd refused to share space with me in another part of the house. The truth is I refused to share space! I was much happier in my own private corner than I would have been in a huge space I had to share.

I also love working in coffee shops and have a date with myself at least once a week.

Is there any specific way you go about researching materials you use when writing?

When I start something historical, I'm never sure of my story line but know the era I'd like to write about. Because of this, I give a lot of time to reading broadly. I keep a box of library books related to my subject, order some used books on line, and read articles from sites like JUSTOR. Slowly I start to narrow in on specifics, and my characters start to emerge.

What are some of the things that inspired you to write this novel?

Bits and pieces from everywhere:

My Laura Ingalls love inspired me to create my own strong pioneer girl.

Gary Paulsen's HATCHET planted the seed of MAY B.'s survival theme.

THE COUNT OF MONTE CRISTO is my favorite book, and I've always been especially drawn to the chapters where Edmund Dantes is trapped in his prison cell. Telling a story in a small space intrigued me.

The movie CASTAWAY pushed me to try writing a story with little dialogue and interaction with other characters.

My years as a teacher made me wonder about children with learning disabilities in eras when such obstacles would have been misunderstood. When I decided May struggled with a learning disability, the story began to blossom.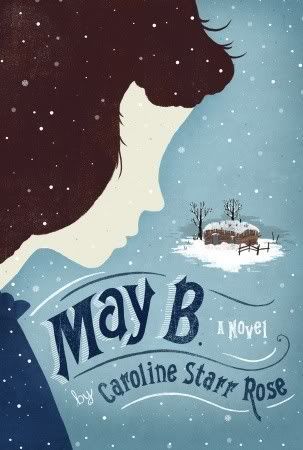 May B
By Caroline Starr Rose
Publisher: Schwartz & Wade
Publish Date: January 10, 2012
Format: Hardback, pp 240
Age Demographic: Young Adult
b&n // amazon

I've known it since last night:
It's been too long to expect them to return.
Something's happened.

May is helping out on a neighbor's Kansas prairie homestead—just until Christmas, says Pa. She wants to contribute, but it's hard to be separated from her family by 15 long, unfamiliar miles. Then the unthinkable happens: May is abandoned.

Trapped in a tiny snow-covered sod house, isolated from family and neighbors, May must prepare for the oncoming winter. While fighting to survive, May's memories of her struggles with reading at school come back to haunt her.

But she's determined to find her way home again. Caroline Starr Rose's fast-paced novel, written in beautiful and riveting verse, gives readers a strong new heroine to love.

*Summary taken from Goodreads.
❝To Purchase a Copy❞
Amazon
|
Barnes&Noble
BooksAMillion
|
Book Depository
Thank you, so much Caroline Starr Rose for stopping by the blog and for sharing this fun micro-interview with the rest of us. I wish you a ton of success with May B and I absolutely cannot wait to read it. To the rest of my fellow bloggers, I urge all of you to definitely pick up a copy of this book and read it and encourage other's to read it as well, not just for awareness but because of the wonderfully strong young heroine that Caroline Starr Rose has created.