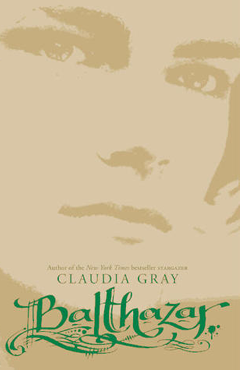 Balthazar
By Claudia Gray
Publisher: HarperTeen
Publish Date: March 6, 2012
Format: Hardback, pp 384
Age Demographic: Young Adult
b&n // amazon

Haunted by memories from his first days as a vampire, Balthazar has spent hundreds of years alone—without allies, without love. When he emerges from his isolation to help Skye Tierney, a human girl who once attended Evernight Academy, Balthazar has no idea how dangerous it will be. Skye's psychic powers have caught the attention of Redgrave, the cruel master vampire responsible for murdering Balthazar and his family four centuries ago. Having learned of Skye's powers and the remarkable effect her blood has on vampires, he plans to use her for his own evil purposes. As they stand together to fight the evil vampire, Balthazar realizes his lonely world could finally be changed by Skye...just as Redgrave realizes that he can destroy Balthazar once and for all by taking her for his own.

In a story filled with forbidden love and dark suspense, one of the most beloved characters in Claudia Gray's New York Times bestselling Evernight series will captivate readers with his battle to overcome his past and follow his heart.

*Summary taken from Goodreads.
❝My Thoughts❞
Balthazar is a cleverly written, powerfully suspenseful paranormal spin-off of Claudia Gray's Evernight series, that readers are sure to enjoy. It is an intensely compelling and intriuging novel, with well established characters, wonderful development, and a unique writing style that makes Gray stand apart in her own way. It is chalked full of fast paced action and heart stopping danger, with a few of its own dark twists and turn that will have readers squirming in their seats. There is more than just the the main story arc that this novel has going for it, it's almost as if there is a merging of sorts happening as readers follow along with the story, that links what both Balthazar and Skye are dealing with together in direct relation to it. It elevates it in a sense and Gray does a beautiful job in creating the perfect balance.

Balthazar is such a magnificently developed character and it was nice to get a glimpse of his past. What made it even more interesting, was how he wrestled with who he was and his past, as well. For as much as he is incredibly loyal, honest and caring, he is still just as beautifully torutred, dark, and filled with tumltuous angst. This gives him such amazing depth and edge, while giving readers pesonal insight into who he is by showing them what he's experienced and how he became the deeply conflicted and totured man he is now.

There is so much electric chemistry popping and cracking between Balthazar and Skye that will leave readers breathless. The moments shared between the two are emotionally gripping and beautifully written. The almost kisses will be sure to leave readers pulses racing and have them giddy with anticipation. It is such a gratifying experience that they will want Balthazar to have his happy ending.

There was such a refreshing quality about this story being told and Gray does not let readers down, by continuing to keep it this way by adding a fresh outlook on things from a human's perspective. Her characters are incredibly strong, filled with amazing tenacity, beautiful character flaws that make some of them more human than they may seem, and a whirlwind of intrigue. This book can be read as a stand alone quite easily and readers don't have to have read the Evernight series. It's filled with such a heightened dark and thrilling intensity that will have readers enthralled until they've turned the last page. The cliffhanger it ends with, will have them pining for the next book to follow. It is that wonderfully written and captivating.

{ This ARC was provided by ATW ARC Tours, in exchange for an honest review which I have provided. No money exchanged hands, I review books for fun because I love to read. I am not interested in monetary gain. Any piece of this ARC that was/wasn't quoted, is not part of the finished product and should not be perceived as such.}