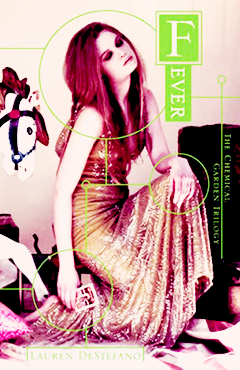 Fever
By Lauren deStefano
Publisher: Simon&Schuster
Publish Date: February 21, 2012
Format: Hardback, pp 352
Age Demographic: Young Adult
b&n // amazon

"Our footprints emerge from the ocean, like ghosts are roaming the beach. I like that. We are the ghosts of sunken countries. We were once explorers when the world was full, in a past life, and now we're back from the dead." (pp's 1 & 2)

Rhine and Gabriel have escaped the mansion, but danger is never far behind.

Running away brings Rhine and Gabriel right into a trap, in the form of a twisted carnival whose ringmistress keeps watch over a menagerie of girls. Just as Rhine uncovers what plans await her, her fortune turns again. With Gabriel at her side, Rhine travels through an environment as grim as the one she left a year ago - surroundings that mirror her own feelings of fear and hopelessness.

The two are determined to get to Manhattan, to relative safety with Rhine's twin brother, Rowan. But the road there is long and perilous - and in a world where young women only live to age twenty and young men die at twenty-five, time is precious. Worse still, they can't seem to elude Rhine's father-in-law, Vaughn, who is determined to bring Rhine back to the mansion...by any means necessary.

In the sequel to Lauren DeStefano's harrowing Wither, Rhine must decide if freedom is worth the price - now that she has more to lose than ever.

*Summary taken from Goodreads.
❝My Thoughts❞
Fever is a dark, thrilling, and captivating dystopian world full of beautiful thought provoking images. The dying girls covered in glitter has a magical way of putting readers right inside the carnavals described in brilliant rich detail with their rusty old merry-go-rounds. It is a gut-wrenching emotional rollercoaster, that is phenomenally gripping and action packed. It does a wonderful job, picking up where Wither left off. Rhine and Gabriel have escaped the mansion, but not necessarily the danger that follows them wherever they seem to run to.

De Stefano does a brilliant job of painting a stark picture of deep-seeded fear, overwhelming hopelessness, and incredible danger that both Rhine and Gabriel must face. When faced with a heart wrenching decision of whether her freedom is worth more than she has to lose, Rhine must decide between head and heart under some pretty extraoridinarly overwhelming conditions. She does so, with an amazing wealth of strength and graceful courage. Her voice is incredibly strong and possesses this melodic quality that has the ability of putting readers in a trance with it. Fever is a highly charged emotionally bold story that is often times realistically dark and gritty. It is a uniquely interesting and cleverly written novel, where de Stefano has created a terrifying world of dark compelling beauty and short life spans where women only live until they are twenty and men survive until their twenty-fifth year.

Filled with action-packed danger lurking around every corner, creatively clever story arcs that will leave readers engaged til' the last page has been read, and heart-pounding romance on the way to freedom Fever is sure to be one of the most compelling reads in 2012. De Stefano possesses this uncanny ability to draw her readers in with strong imagery, beautiful prose that's almost lyrical at best, fascinating world building that she expounds on further in the second installment of her Chemical Garden trilogy, and richly developed characters that experiences exponential growth with each novel that follows. Fever is a deeply conflicted and compelling tale of danger and survival. It's about the lengths one would go to in order topursue their personal choice of freedom and what they will risk, no matter the cost - life or death. It will leave reader's breathless and wanting more.

{ This ARC was provided by ATW ARC Tours, in exchange for an honest review which I have provided. No money exchanged hands, I review books for fun because I love to read. I am not interested in monetary gain. Any piece of this ARC that was/wasn't quoted, is not part of the finished product and should not be perceived as such.}