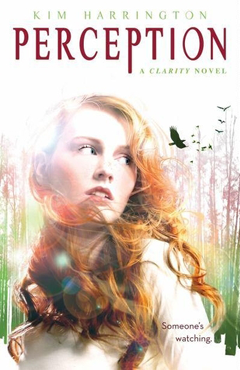 Perception
by Kim Harrington
Publisher: Point
Expected Publication: March 1, 2012
Received via: ATW ARC Tours
amazon | b&n

When you can see things others can't, what do you do when someone's watching you?

Everybody knows about Clarity "Clare" Fern. She's the psychic girl in school, the one who can place her hands on something and see hidden visions from the past.

Only Clare would rather not be a celebrity. She prefers hanging back, observing. Her gift is not a game to her.

But then someone starts playing with her head . . . and heart. Messages and gifts from a secret admirer crop up everywhere Clare turns. Could they be from Gabriel, the gorgeous boy who gets Clare's pulse racing? Or from Justin, Clare's hopeful ex-boyfriend who'd do anything to win her back?

One thing is certain. Clare needs to solve this mystery, and soon. Because the messages are becoming sinister, and a girl in town has suddenly disappeared.

* Summary taken from Goodreads.
❝My Thoughts❞
Perception is a wonderful blend of mystery and paranormal, that is sure to get readers blood pumping. It defines stalker in a whole new way and is filled with terrifying creepy vibes. Cleverly written and filled with interesting twists and turns, Harringtong sets the stage through brilliant imagery and fills in the gaps with fun witty banter and cynical snark between her character's. It's wonderfully fast-paced, filled with action, and filled with spine-tingling chills. Perception will hook readers until they reach an ending they won't see coming.

Clarity is such a realistic likable character that readers can identify with. She possesses a few unique qualities of her own. She's incredibly intelligent, compassionate, and strong. Her willingness to help other's by putting herself in danger, has a way of making her endearing and sympathetic to readers. The close familial bond she shares with her brother, was personally one of my favorite qualities about her. Once dubbed the "town freak," she shows that she'd rather not be the center of attention. Her psychic gifts are not to be played with, she takes them seriously and shows this through grit and spirit of her own.

I personally found myself enjoying the love triangle between Clarity, Justin, and Gabriel. Where Justin was trying and succeding at redeeming himself a little bit, Gabriel was just right amount of mysterious and alluringly handsome. The magnetic chemistry between Gabriel and Clarity was intense and incredibly enjoyable to read. Yet, the re-building of a friendship once broken, was equally as gratifying. At times, Harrington made it hard to root for just one of them, because it's easy to see how both of the guys could be good for Clarity in different ways for different reasons.

Perception is the perfect balance of paranormal and mysterious intrigue combined, with action, danger, and a tinge of romance. It's uniquely clever and full of powerful suspence. There's a variety of of wonderfully developed character's with interesting quirks and habits of their own. Clairty is an amazingly strong female heroine, whom readers will fall in love with. Incredibly interesting story arc's are fleshed out, with brilliant plot details that leave just enough to get the readers imagination flowing. Perception is such a comepelling story that it will leave readers reeling from an unexpected twist and craving more.

{ This ARC was provided by ATW ARC Tours, in exchange for an honest review which I have provided. No money exchanged hands, I review books for fun because I love to read. I am not interested in monetary gain. Any piece of this ARC that was/wasn't quoted, is not part of the finished product and should not be perceived as such.}