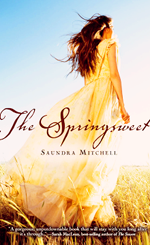 The Springsweet
by Saundra Mitchell
Publisher: Harcourt Children's Books
Expected Publication: April 17, 2012
Received via: ATW ARC Tours
amazon | b&n

It's a long way from Baltimore to Oklahoma Territory. But Zora Stewart will go any distance to put the tragic events of her sixteenth summer behind her. So this city girl heads to the tiny frontier town of West Glory to help her young widowed aunt keep her homestead going.

When another Baltimorean shows up in West Glory, Zora couldn't be more surprised. Theo de la Croix made the long trip out west hoping to court Zora, whom he has long admired from afar.
But Zora has developed an attraction to a rather less respectable fellow: Emerson Birch, a rough-mannered young "sooner" whose fertile land is coveted.

As Zora begins to suspect that there may be more than luck behind Emerson's good land, she discovers an extraordinary, astonishing power of her own: the ability to sense water under the parched earth. When her aunt hires her out as a "springsweet" to advise other settlers where to dig their wells, Zora feels the burden of holding the key to something so essential to survival in this unforgiving land.

Even more, she finds herself longing for love the way the prairie thirsts for water. Maybe, in the wildness of the territories, Zora can finally move beyond simply surviving and start living.

* Summary taken from Goodreads.
❝My Thoughts❞
The Springsweet is beautiful blend of paranormal and historical elements that will leave readers breathless. Mitchell writes with such intense emotional fervor and lyrical prose, that readers will find the imagery alluring and entrancing. It picks up a short while after The Vespertine left off, bringing Zora and her adventures to Oklahoma to spend a season with her cousin. Michell's characters possess such strength of heart and grit that it's hard not to fall in love with them. Like The Vespertine, The Springsweet is phenomenally gripping, action packed, and filled with overwhelming emotion.

Zora has recently experienced a personal tragedy of her own and spends a great deal of the book trying to come to terms with her loss. Mitchell gives readers incredible insight into the Zora, when faced with the task of moving on and learning to live again or staying mired down in the past because that's what she secretly longs for. She does a brilliant job of painting a heart achingly beautiful portrait of grief and choosing between heart and head. Zora is filled with so much strength and courage; readers can't help but marvel at her audacity and come to love her flaws and all. She's such a bright and realistic image of strength and grace, that's incredibly interesting to get to know.

I personally loved how bold and daring Zora showed herself to be when she made her choice regarding the two men. It wasn't so much a love triangle that Mitchell was painting, but rather stoking the fires between Emerson and Zora to slow burn. It was intriguing and quite enjoyable to see Zora get as good as she gave, as far as these two were concerned. Emerson Birch is about as strong and steady as they come; a bit rough around the edges, with some flaws of his own that makes him just as loveable. He's riddled with his own past imperfections, but they seem to have this way of elevating him more, adding in more depth and layers, to make his character more likeable and sympathetic to readers.

The Springsweet is a beautifully written, fast-paced novel, filled with the dusty imagery of how Oklahoma was from a historical view point. Readers will not see the ending coming and will be genuinely surprised. It will leave them craving the next book to follow. The twist at the end is wonderfully written and brilliantly executed. Anyone who enjoys historical novels and the writing style of Anna Godbersen or Jillian Larkin is sure to enjoy The Springsweet.

{ This ARC was provided by ATW ARC Tours, in exchange for an honest review which I have provided. No money exchanged hands, I review books for fun because I love to read. I am not interested in monetary gain. Any piece of this ARC that was/wasn't quoted, is not part of the finished product and should not be perceived as such.}