Desperately Wanting Wednesday was created by the awesome Parajunkee. It's not only for new upcoming releases, but it can be for books that were missed, books that have already been released, or even books that you want and haven't been purchased yet.

This post is featuring a few of the "most anticipated" upcoming releases that I'm currently obssessed and geeking out over.
Coming Attractions in 2012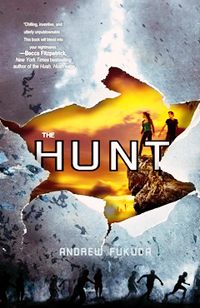 Title: The Hunt
Author: Andrew Fukuda
Publication Date: May 8, 2012

Don't Sweat. Don't Laugh. Don't draw attention to yourself. And most of all, whatever you do, do not fall in love with one of them.

Gene is different from everyone else around him. He can't run with lightning speed, sunlight doesn't hurt him and he doesn't have an unquenchable lust for blood. Gene is a human, and he knows the rules. Keep the truth a secret. It's the only way to stay alive in a world of night—a world where humans are considered a delicacy and hunted for their blood.

When he's chosen for a once in a lifetime opportunity to hunt the last remaining humans, Gene's carefully constructed life begins to crumble around him. He's thrust into the path of a girl who makes him feel things he never thought possible—and into a ruthless pack of hunters whose suspicions about his true nature are growing. Now that Gene has finally found something worth fighting for, his need to survive is stronger than ever—but is it worth the cost of his humanity?

I am extremely excited to get my hands on a copy of this book. It looks like it's going to be incredibly dark, intense, and full of dangerous twists and turns. The whole concept and storyline, is definitely intriguing and already has me hooked.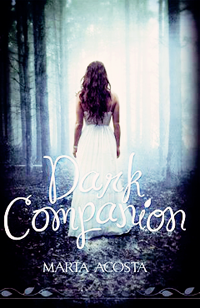 Title: Dark Companion
Author: Marta Acosta
Publication Date: July 3, 2012

When foster teen Jane Williams is invited to attend elite Birch Grove Academy for Girls and escape her violent urban neighborhood, she thinks the offer is too good to be true. She's even offered her own living quarters, the groundskeeper's cottage in the center of the birch grove.

Something's not quite right about the school -- or is it Jane? She thinks she sees things in the birch grove at night. She's also beginning to suspect that the elegant headmistress and her sons are hiding secrets. Lucky is the gorgeous, golden son who is especially attentive to Jane, and Jack is the sardonic puzzling brother.

The school with its talented teachers and bright students is a dream for a science and math geek like Jane. She also loves her new friends, including hilarious poetry-spouting rich girl, Mary Violet. But the longer Jane stays at Birch Grove, the more questions she has about the disappearance of another scholarship girl and a missing faculty member.

Jane discovers one secret about Birch Grove, which only leads to more mysteries. What is she willing to sacrifice in order to stay at this school...and be bound to Birch Grove forever?

Dark mysterious hidden secrets set in an academy mixed with mystery and sacrifice, definitely has my attention. I love books that are set in academies, rich private schools, and oversea's boarding schools. They just have a certain dynamic and some pretty amazing colorful characters, that I can't help but be drawn to them. The cover of this book is dark, omnious, and beautiful. Already, I'm attached and find the synopsis intriguing.
Title: Hemlock
Author: Kathleen Peacock
Publication Date: May 8, 2012

Mackenzie and Amy were best friends. Until Amy was brutally murdered.

Since then, Mac's life has been turned upside down. She is being haunted by Amy in her dreams, and an extremist group called the Trackers has come to Mac's hometown of Hemlock to hunt down Amy's killer: A white werewolf.

Lupine syndrome—also known as the werewolf virus—is on the rise across the country. Many of the infected try to hide their symptoms, but bloodlust is not easy to control.

Wanting desperately to put an end to her nightmares, Mac decides to investigate Amy's murder herself. She discovers secrets lurking in the shadows of Hemlock, secrets about Amy's boyfriend, Jason, her good pal Kyle, and especially her late best friend. Mac is thrown into a maelstrom of violence and betrayal that puts her life at risk.

Kathleen Peacock's thrilling novel is the first in the Hemlock trilogy, a spellbinding urban fantasy series filled with provocative questions about prejudice, trust, lies, and love.

I've been obsessing over this one for quite a while, now. I'm quite excited for this "spellbinding urban fantasy". I have to say that while I'm normally "Team Vampires!" I've actually started to develop a fondness for werewolves, some of them anyway. This seems like the perfect novel tailor made for me, because it's got gritty violence and betrayal, trust and lies, and romance. So far, I love everything that I've heard about this book and more. I cannot wait to read this!
Title: Shadow and Bone
Author: Leigh Bardugo
Publication Date: June 5, 2012

Surrounded by enemies, the once-great nation of Ravka has been torn in two by the Shadow Fold, a swath of near impenetrable darkness crawling with monsters who feast on human flesh. Now its fate may rest on the shoulders of one lonely refugee.

Alina Starkov has never been good at anything. But when her regiment is attacked on the Fold and her best friend is brutally injured, Alina reveals a dormant power that saves his life—a power that could be the key to setting her war-ravaged country free. Wrenched from everything she knows, Alina is whisked away to the royal court to be trained as a member of the Grisha, the magical elite led by the mysterious Darkling.

Yet nothing in this lavish world is what it seems. With darkness looming and an entire kingdom depending on her untamed power, Alina will have to confront the secrets of the Grisha…and the secrets of her heart.

This wonderful declicious novel looks looks like it's going to be so good. I love dark gothic urban fantasies, filled with magical elements blended in with a bit of mystery and historical. Plus, romance and royalty, and a magical elite. I absolutely cannot wait to get my hands on this book and devour it.
That's my most anticipate "desperately wanting wednesday" what's yours?