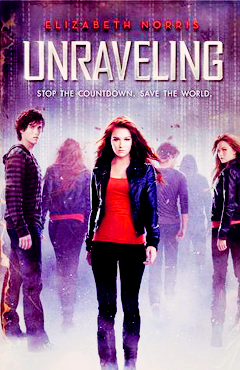 Struck
by Elizabeth Norris
Publisher: Balzer + Bray
Expected Publication: April 24, 2012
Pages: 464
Age Demographic: Young Adult
Received via: ATW ARC Tours
amazon | b&n

Two days before the start of her junior year, seventeen-year-old Janelle Tenner is hit by a pickup truck and killed—as in blinding light, scenes of her life flashing before her, and then nothing. Except the next thing she knows, she's opening her eyes to find Ben Michaels, a loner from her high school whom Janelle has never talked to, leaning over her. And even though it isn't possible, she knows—with every fiber of her being—that Ben has somehow brought her back to life.

But her revival, and Ben's possible role in it, is only the first of the puzzles that Janelle must solve. While snooping in her FBI agent father's files for clues about her accident, she uncovers a clock that seems to be counting down to something—but to what? And when someone close to Janelle is killed, she can no longer deny what's right in front of her: Everything that's happened—the accident, the murder, the countdown clock, Ben's sudden appearance in her life—points to the end of life as she knows it. And as the clock ticks down, she realizes that if she wants to put a stop to the end of the world, she's going to need to uncover Ben's secrets—and keep from falling in love with him in the process.

From debut author Elizabeth Norris comes this shattering novel of one girl's fight to save herself, her world, and the boy she never saw coming.

* Summary taken from Goodreads.
❝My Thoughts❞
Unraveling is an incredibly thrilling and highly intelligent sci-fi young adult thriller, full of daring twists and turns, intriguing mysteries that will keep readers guessing at every turn, and an amazing cast of characters that only enhance the story being told. Think X-Files meets young adult, filled with mystifying parallel universes melding with the present and captivating intrigue. Norris fills her novel full of suspense and the right amounts of daring adventure, to keep readers engaged and on the edge of their seats throughout the whole story. She does a phenomenal job in creating realistic events, developing her characters with likable qualities, and keeping readers on their toes guessing. Unraveling is a novel that is completely unpredictable in every way imaginable.

The action starts almost immediately, when Janelle is hit by a truck and then brought back to life by a mysterious new guy. Questions start flying and readers are soon off on a chase to find the answers, along with Janelle. She is a wonderful lead heroine, full of incredible strength, intelligence, and compassion. She's certainly not afraid to give as well as she gets and always manages to roll with the punches somehow. She's not without her issues though, having to do deal with a barely functioning mother who's been diagnosed as bi-polar, tasked with taking care of not only herself but her younger brother as well making sure he has whatever he needs, and discovering a countdown to something infinitely bigger than the world and with the power to cause devastating chaotic peril.

Janelle is incredibly unselfish and knows when she needs help, which are admirable qualities about her that make it easy for readers to connect with her. She soon discovers that this mysterious guy who brought her back to life, Ben Michaels, and his friends may not be who they seem. Later on in the story, she realizes that she was right, they have a secret: they can possibly save the world from ending in chaos and destruction. There are two other major players in the story and they are Ben and Alex. Both guys have quite a bit of chemistry with Janelle and it's easy to see how she could be attracted to and care for them both.

Alex seems to be the other half of Janelle, her childhood best friend that she's grown up with. He seems to be her voice of reason, albeit one that she doesn't necessarily always listens to. He's incredibly supportive and sweet, when it comes to protecting her at all costs and being there for her. Ben, on the other hand, is mysteriously intriguing, and swoon worthy handsome. While he comes across as stoner and slacker, there's definitely more to him below the surface. The closer that Janelle and Ben work together to save the world, the more she feels drawn to him and their connection starts to grow and develop into something more. She starts to let go and fall in love with him. Their chemistry is passionate and full of strength, yet it's just there almost suspended in a sense and leaving readers craving more.

Unraveling possesses a super crazy unpredictable plot twists filled with action and the unraveling of mysteries and more questions leading up to the countdown that readers will never guess. Fans who enjoy mystery thrillers, filled with incredible intense action, a daring sense of suspense, and memorable characters that are well develop and easy to connect with, will definitely enjoy this novel. From the moment it starts, it never stops until readers reach the end, and then it leaves on a cliffhanger that will have them hanging on for more.
To Read, Borrow, or Buy?
I would definitely suggest buying this book when it comes out, because it was such an enjoyable read full of mystery, intrigue, and lots of action. There characters are engaging, the story is cleverly written, and it's just a lot of fun.

Purchase Unraveling: Amazon | B&N | Book Depository | Books-A-Million

Shopping Indie: IndieBound | Mysterious Galaxy | Books Of Wonder

Finding Elizabeth Norris: Blog | Twitter | Unraveling Facebook | Goodreads

{ This ARC was provided by ATW ARC Tours, in exchange for an honest review which I have provided. No money exchanged hands, I review books for fun because I love to read. I am not interested in monetary gain. Any piece of this ARC that was/wasn't quoted, is not part of the finished product and should not be perceived as such.}