TOP TEN TUESDAY: MAY 27, 2012
TOP TEN SERIES I'D LOVE TO PLAY HOOKY WITH
Top Ten Tuesday is a meme that was created by The Broke and The Bookish. Each week there will be a new topic and a linky, for you to share your lists with everyone one else.
This week's topic is "books to that you'd play hooky with," I thought I'd change it up a little bit and pick the series that I'd love to play hooky with, instead. We all have those series of books that we'd like to re-read again or one's that we haven't yet gotten around to reading or even one's that we've started and haven't seemed to finish yet. These just happen to be a few of mine.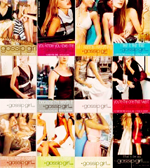 Gossip Girl series by Cecily Von Ziegesar.

I love this series, it's definitely one of my favorites to get lost in during the summer. It's got a lot of fun wacky hijinx on the upper Eastside and some kickass characters too.

Pretty Little Liars series by Sara Shepard.

I sort of want to be bff's with Spencer, she's pretty much my favorite of them all. I love how she's incredibly flawed, yet she's just super amazing and incredibly intelligent on her own terms. Plus, the books are filled with a lot of suspense, mystery, scandolous secrets, and girls just being girls.


The Mortal Instruments series by Cassandra Clare.

Oh my god! I have SO MUCH LOVE for this series of books and I would risk playing hooky every chance I got with them. Magnus is super shiny and probably my favorite character out of the series, to tell the truth. Clary is kickass and I totally love how broody and sarcastic Jace is.

Hush, Hush series by Becca Fitzpatrick.

I've sort of have a slight obsession with angel books in ya fiction and this series is no exception. It's definitely one of my favorites and I have enjoyed reading the first couple of books in the series, I just need to read the newest one at some point. I'm extremely excited that there's going to be a fourth and final book, so looking forward to that.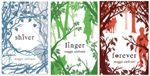 The Wolves of Mercy Falls series by Maggie Stiefvater.

I will read ANYTHING that Maggie Stiefvater writes, because her writing is just that amazing and mesmorizing. It's incredibly thrilling and heart pounding, this series is so good. I could get lost inside the pages for hours, seriously. Grace and Sam are powerfully moving and exceptionally beautiful, their fight and struggle to find each other, stay in love, and manage to keep holding onto that love in the face of overwhelming danger and odds stacked against them. This is the perfect series of books to curl up with on a dark and stormy day, cup of hot herbal tea, and a weekend of nothing but playing hooky from the world.

Fallen series by Lauren Kate.

Again with the angels, but I love how dark and thrilling this series is. Plus, it's full of so much passion and epic battles and ultimate sacrifices. It's such a compelling series that has me so entranced. Oh my goodness, Luce and Daniel. They are so heartwrenchingly beautiful and I ache for them in all the necessary ways. It's so angsty and tumultuous and filled with so much tension. Perfect series to play hooky with.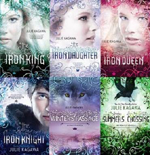 The Iron Fey series by Julie Kagawa.

This is really one of those series that I need to make a definite date to play hooky with, because I've heard such fantastical things about this world and how rich with vivid detail and loveable character's it's filled with. This is definitely high up on my TBR list in the coming months, for sure. I can't wait to see what all the awesome hype is about.

Bright Young Things series by Anna Godbersen.

I have developed a fondness for contemporary historical ya fiction and this series is written in such a splendid way, full of entrancing vibrancy and wonderful richly developed character's that I'd love nothing more than to befriend and spend a day with. Godbersen writes with such lyrical whimsy and beautiful imagery, that it's almost as if you're being transported back to the jazz age itself as you immerse yourself into the story being told and get lost within the pages.


The Hunger Games series by Suzanne Collins.

You knew this HAD to be on the list. I am seriously going to sit down SOON with all off these books and practically gobble them all up. Gale is totally my fictional boyfriend for life! And Katniss is super amazingly awesome. BEST. SERIES. EVER.

Hex Hall series by Rachel Hawkins.

This is such a fun and quirky series to get lost in. I enjoyed the first book, Hex Hall, immensely and I can't wait to read the rest of this series. I just need to pick up a copy of Spell Bound and then I can sit down with the last two books and play catch up. The character's are oodles of fun to get to know, there's tons of action and suspense, plus twists and unexpected things you'd never really guess at. It's definitely a date to play hooky with soon.
What books would you play hooky with?