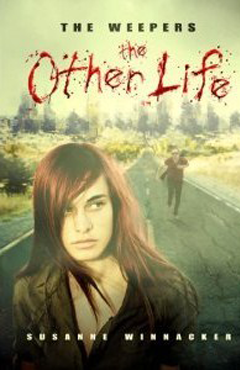 The Other Life
by Susanne Winnacker
Publisher: Marshall Cavendish Childrens Books
Expected Publication: May 1, 2012
Pages: 256
Age Demographic: Young Adult
Received via: ATW ARC Tours
amazon | b&n

3 years, 1 month, 1 week and 6 days since I'd seen daylight. One-fifth of my life. 98,409,602 seconds since the heavy, steel door had fallen shut and sealed us off from the world.

Sherry and her family have lived sealed in a bunker in the garden since things went wrong up above. Her grandfather has been in the freezer for the last three months, her parents are at each other's throats and two minutes ago they ran out of food.

Sherry and her father leave the safety of the bunker and find a devastated and empty LA, smashed to pieces by bombs and haunted by 'Weepers' - rabid humans infected with a weaponized rabies virus.

While searching for food in a supermarket, Sherry's father disappears and Sherry is saved by Joshua, a boy-hunter. He takes her to Safe-haven, a tumble-down vineyard in the hills outside LA, where a handful of other survivors are picking up the pieces of their 'other lives'. As she falls in love for the first time, Sherry must save her father, stay alive and keep Joshua safe when his desire for vengeance threatens them all.

* Summary taken from Goodreads.
❝My Thoughts❞
The Other Life is not your ordinary dystopian thriller. It's incredibly action packed, fast paced, and cleverly written with wonderful originality. Winnacker paints a world so hopeless that readers will never know what's going to happen next, as she fills the pages with incredible survival, dangerous twists and turns, and intriguing arcs. The story she tells is unimaginably realistic and terrifyingly stunning, filled with stark imagery depicting the gritty and garishly haunting events happening. Readers will be clamoring for more, yet left with many answered and unanswered questions at every turn.

There is a world of total chaos and devastation going on outside the bunker that Sherry and her family has sealed themselves into for the last three years. It's filled with savage genetically mutated killers described as Weepers. They have become infected by a virus that has caused them to mutate into rabid humans that represent Zombie-like creatures who absolutely cannot be reasoned with and are extremely dangerous. They're hell bent on causing destruction and chaos with whatever they come into contact with. Avengers are determined to destroy the Weepers, in order to survive living in this post-apocalyptic environment.

Winnacker's characters are wonderfully engaging and incredibly brave, full of survival skills, and determination to stop at nothing to protect those they love. Sherry is a wonderful example of this, such a strong, determined, and brave heroine in all of her attempts to find her father, save her family, and keep Joshua safe as well. She endures a lot, yet she has the tenacity and strength for reaching deep inside herself and pulling as much grit and determination to do what she knows is the right thing - protecting those she loves at all costs. Joshua is the Avenger that finds her and manages to rescue her. Readers learn that he has absolutely nothing to and no one to lose. He is also fighting for his survival and is fueled by one thing, kill as many of the Weepers that get in his way, as possible. The romance that slowly blossoms between Sherry and Joshua is very well balanced and developed. It's protective and filled with heart aching passion. It doesn't over shadow the main plot of the book, which is definitely a refreshing element.

The Other Life is wildly gripping and filled with incredible daring suspense and dangerous chaos. It leaves off on a major cliff hanger that will have readers craving more. I would definitely recommend this book to anyone who enjoys dark and gritty dystopian novels or post-apocalyptic story arcs. Fans of The Hunger Games, Divergent, or Article 5 would definitely enjoy this highly suspenseful, intense, and intriguing novel.

{ This ARC was provided by ATW ARC Tours, in exchange for an honest review which I have provided. No money exchanged hands, I review books for fun because I love to read. I am not interested in monetary gain. Any piece of this ARC that was/wasn't quoted, is not part of the finished product and should not be perceived as such.}