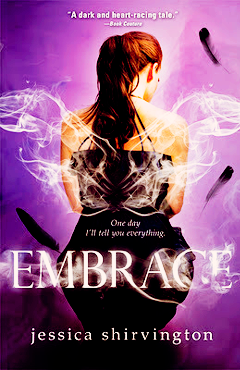 Embrace
by Jessica Shirvington
Publisher: Sourcebooks
Expected Publication: March 6, 2012
Received From: Sourcebooks
amazon | b&n

It starts with a whisper: "It's time for you to know who you are…"

Violet Eden dreads her seventeenth birthday. After all, it's hard to get too excited about the day that marks the anniversary of your mother's death. As if that wasn't enough, disturbing dreams haunt her sleep and leave her with very real injuries. There's a dark tattoo weaving its way up her arms that wasn't there before.

Violet is determined to get some answers, but nothing could have prepared her for the truth. The guy she thought she could fall in love with has been keeping his identity a secret: he's only half-human—oh, and same goes for her.

A centuries-old battle between fallen angels and the protectors of humanity has chosen its new warrior. It's a fight Violet doesn't want, but she lives her life by two rules: don't run and don't quit. When angels seek vengeance and humans are the warriors, you could do a lot worse than betting on Violet Eden…

Look for the sequels ENTICED in September 2012 and EMBLAZE in March 2013!

* Summary taken from Goodreads.
❝My Thoughts❞
Embrace is a gripping emotionally intense blend of fantasy and paranormal. Shirvington's twist on angel mythology is cleverly unique and full of originality, that sets it apart from most young adult angel-based books adorning the shelves today. It is a world full of wonderful drama and beautiful heart stopping romance, filled with hidden secrets and painful deception, and ties bound by blood. It is a world where angels seek out vengeance and humans find themselves warriors. The battle between the two is centuries old and brilliantly developed.

The mythology that Shirvington creates is not only intriguing, but beautifully written and entrancing. Readers will find themselves drawn into a world that will keep them captivated while stretching their imaginations to its limits. Her characters are bold, daring, and wonderfully developed full of interesting personality facets, amazing back stories that have purpose and meaning to the plot and are interwoven amazingly well.

Violet is such an amazing kickass strong and resilient female heroine. She doesn't give up no matter the cost and she's incredibly determined to uncover the answers to the questions she seeks, even though she may not be prepared for what she finds. While control may be very important to her, she seems to be battling with keeping control of it and dealing with some tough issues of her own. The disturbing dreams are beginning to leave her with actual injuries that she has to deal with; meanwhile a strange tattoo is crawling up her arm that wasn't there previously. She finds herself being tested over and over again, but somehow always manages to follow her heart. She isn't perfect, which makes her even more realistic and likable.

Lincoln is an intriguing character and a bit of a mystery all his own. While he's Eden's best friend and voice of reason, he's also got a secret of his own. He's Grigori, half angel and half human. The surprise is that he's not the only one. Eden is, as well, even though she doesn't find that out until later. Lincoln is the kind of guy that any girl would normally find themselves wanting, so it's no surprise that he's the guy that Eden has strong feelings for, she just wishes that he felt the same for her. He's also the guy who broke her heart. Phoenix is a whirlwind of fire breaking all the rules and slowly weaving his way into Eden's heart. He's full of mysterious intrigue and bad boy attitude, but he's such a fun character. The love triangle is set-up in such a way that it's hard to pick just one of the boys for her, because they both work so well for various different reasons. It's written and implemented into the story quite well.

Embrace touches on issues such as love conquering all things, good or evil, and the darkness within tempered against the light. It pushes the limits of what one would do in an effort to protect the one's they care for - the lengths they will go to and shows that for every choice made there is a consequence. It is an action packed, intense, richly compelling new and unique take on angels with interesting twists and turns that will leave readers breathless and craving more. I personally found it to be emotionally engaging and captivating. It will hook readers and keep them on the edge of their seats, for what's to come next.

{Small Note: This book was received from Sourcebooks, in exchange for an honest review which I have provided in a timely manner. No money exchanged hands. I review books for fun because I love to read. I am not interested in monetary gain.}