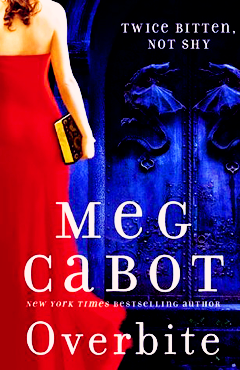 Overbite
by Meg Cabot
ARC Provided by Publisher via TLC Book Tours
Published Date: Febrary 7, 2012
Publisher: William Morrow Paperbacks; Reprint
Book Format: Paperback; pp 305
Age Demographic: Adult/Cross-over Young Adult
amazon | b&n

Meena Harper has a special gift, but it's only now that anyone's ever appreciated it. The Palatine Guard — a powerful secret demon-hunting unit of the Vatican — has hired her to work at their new branch in Lower Manhattan. With Meena's ability to predict how everyone she meets will die, the Palatine finally has a chance against the undead.

Sure, her ex-boyfriend was Lucien Antonescu, son of Dracula, the prince of darkness. But that was before he (and their relationship) went up in flames. Now Meena's sworn off vampires for good ... at least until she can prove her theory that just because they've lost their souls doesn't mean demons have lost the ability to love.

Meena knows convincing her co-workers — including her partner, über-demon-hunter Alaric Wulf — that vampires can be redeemed won't be easy ... especially when a deadly new threat seems to be endangering not just lives of the Palatine, but Meena's friends and family as well.

But Meena isn't the Palatine's only hope. Father Henrique — aka Padre Caliente — New York City's youngest, most charming priest, has also been assigned to the case.

So why doesn't Meena — or Alaric — trust him?

As she begins unraveling the truth, Meena finds her loyalties tested, her true feelings laid bare ... and temptations she never even imagined existed, but finds impossible to resist.

This time, Meena may finally have bitten off more than she can chew.

Summary taken from Goodreads.
❝My Thoughts❞
Overbite is a thrilling action packed, suspenseful, and enganging paranormal novel. It's filled with unraveling truths, loyalties that are tested over and over, and inner most feelings exposed as they slowly come to light. Meena, the heroine of this story, will be faced with dark and alluring temptations that she will have to battle with and overcome. Incredible twists and turns will keep readers on the edge of their seats. Cabot does a fantastic job of picking up where Insatiable left off.

The characters are all very human and possess likable qualities about them, that would hook any reader who enjoys paranormal fiction. One of the most interesting facets about this novel, is how perfectly well Cabot illustrates that not everything in the world is as black and white as it may seem, in terms of love and what may appear to be evil. Not everything is as it may appear to be and Meena has a hard task, in trying to convince Alaric and other's that vampires can be redeemed and some of them are even capable of love. To a demon-hunter such as Alaric Wulf, who both knows and has witnessed otherwise, that task may prove to be futile. The character development for all of the major players such as Meena, Alaric Wulf, and Lucien Antonescu (son of Dracula interestingly enough) is brilliantly fleshed out and much more revealing in some situations and interesting in other aspects.

Cabot's knowledge and history of vampires and the mythology surrounding Dracula was handled very well. She pens such an intriguing and cleverly written take on vampires and manages to blend a little bit of the history surrounding Palatine effortlessly. Overbite is chalked full of gritty violence, action packed danger, and steamy romance enough to get any paranormal fan's blood pumping. With juicy plots, fantastically developed characters, interesting spin on history and mythology, Overbite is sure to wow. In short, Cabot fans in general will fall in love with this fast paced, funny, and compelling novel.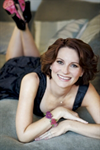 Meg Cabot was born in Bloomington, Indiana. In addition to her adult contemporary fiction she is the author of the bestselling young adult fiction series, The Princess Diaries. She lives in Key West, FL with her husband.
Website | Blog | Twitter | Facebook

Stops for the tour can be found here.

This book was received from HarperCollins via TLC Book Tours, in exchange for an honest review which I have provided. No money exchanged hands, I review books for fun because I love to read. I am not interested in monetary gain.