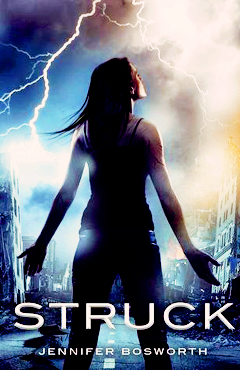 Struck
by Jennifer Bosworth
Publisher: Farrar, Straus, & Giroux
Expected Publication: May 8, 2012
Pages: 384
Age Demographic: Young Adult
Received via: ATW ARC Tours
amazon | b&n

Mia Price is a lightning addict. She's survived countless strikes, but her craving to connect to the energy in storms endangers her life and the lives of those around her.

Los Angeles, where lightning rarely strikes, is one of the few places Mia feels safe from her addiction. But when an earthquake devastates the city, her haven is transformed into a minefield of chaos and danger. The beaches become massive tent cities. Downtown is a crumbling wasteland, where a traveling party moves to a different empty building each night, the revelers drawn to the destruction by a force they cannot deny. Two warring cults rise to power, and both see Mia as the key to their opposing doomsday prophecies. They believe she has a connection to the freak electrical storm that caused the quake, and to the far more devastating storm that is yet to come.

Mia wants to trust the enigmatic and alluring Jeremy when he promises to protect her, but she fears he isn't who he claims to be. In the end, the passion and power that brought them together could be their downfall. When the final disaster strikes, Mia must risk unleashing the full horror of her strength to save the people she loves, or lose everything.

* Summary taken from Goodreads.
❝My Thoughts❞
Struck is a highly enjoyable compelling read, full of many twists and turns, that is sure to keep readers engaged and wanting more. Mia, the story's main heroine, is currently living in virtual chaos and danger brought on by a massive earthquake that many believe has an even worse storm looming on the horizon. Everyone seems to have their reasons for why and how the world is about to end and at the center of them, they are attached to the quake. It is believed by two different cults that Mia may somehow possibly be the "key" as to the why or how the earthquake happened. Mia, on the other hand, has many things that she has to deal with in her personal life and having to come to terms with unleashing the full extent of her strength in an effort to save the people that she loves or risk losing them all.

Mia Price, is a heroine that I have personally come to love a great deal. She is incredibly strong, intelligent, caring, and above all else a survivor. Yet, Bosworth does an amazing job of portraying her in such a realistic light, and giving her some pretty fantastic character flaws. This is a character that has this uncanny way of following her own heart where it tends to lead her, no matter the risk. She often gets a bit confused in deciding between head and heart, yet she is determined to decide her own future. At this point, Mia has managed to survive countless lightening strikes, yet for some strange reason she finds herself craving the connection to the energy in the storms. This is where her flaws seem to come in, because she not only tends to put her life in danger but also other lives as well. It's not necessarily Mia's fault that other's may get hurt as a result of the lightning strikes or the energy in them that she feels such a strong connection to, but none-the-less they often seem to happen and she's left to deal with the guilt and the fall out in her own way. Bosworth does an enormously amazing job at developing her character in such a way that she's not only a strong willed survivor, but also sympathetic to readers as well.

Along the way, she comes into contact with a variety of colorful characters, each with their own beliefs and agenda's it seems but definitely interesting. It seems both Rachel and Katrina are on opposing sides of the viewpoint and each spend quite a bit of time trying to convince Mia that their side is the "good" and "right" side. Then there's Jeremy, whom Mia is attracted to and the mysterious guy that she sort of falls for. Jeremy seems to be dark, alluring, and full of mysterious intrigue. He's also caring and extremely protective of Mia, as well. Yet, Mia isn't sure if she can trust him or not, and he's not even sure he is who he thinks is. Their connection is extremely intense, full of passion and power that will keep readers enthralled and wanting more.

Bosworth has written a cleverly intense, fast-paced, action packed novel that is sure to keep readers entertained. Her gritty images of the destitute and chaos that Mia and the other's live in, are stark and hauntingly realistic. It's as if they are living in a virtual Doomsday waiting for the end to come, with various fantastical beliefs swirling around them. She has also filled her pages with some pretty amazingly witty dialogue, a great sarcastic sense of humor, and some compelling characters. I personally enjoyed the intriguing concept, it was a bit different and unique, but very entertaining and thrilling up until the end which came together very well. It's such a daring post apocalyptic novel that anyone who enjoys action, mystery, interesting takes on the end of the world, would really enjoy this book.

{ This ARC was provided by ATW ARC Tours, in exchange for an honest review which I have provided. No money exchanged hands, I review books for fun because I love to read. I am not interested in monetary gain. Any piece of this ARC that was/wasn't quoted, is not part of the finished product and should not be perceived as such.}