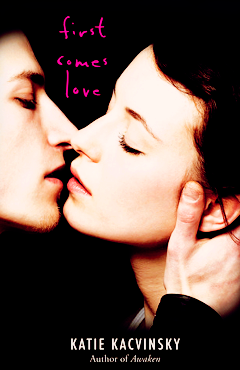 First Comes Love
by Katie Kacvinsky
Publisher: Houghton Mifflin Books for Children
Expected Publication: May 8, 2012
Pages: 208
Age Demographic: Young Adult
Received via: ATW ARC Tours
amazon | b&n


Like his name, Gray is dark and stormy. Dylan, a girl always searching for what's next, seemingly unable to settle down, is the exact opposite: full of light and life. On the outside, they seem like an unlikely couple. But looks can be deceiving and besides, opposites attract.

What starts as friendship, turns into admiration, respect and caring, until finally these two lone souls find they are truly in love with each other.

But staying in love is not as easy as falling in love. If Dylan and Gray want their love to last, they're going to have to work at it. And learn that sometimes love means having to say you're sorry.

* Summary taken from Goodreads.
❝My Thoughts❞
First Comes Love is a tenderly written love story that is emotionally compelling and uniquely realistic. It is lyrically beautiful, deeply compassionate, and filled with sensitive vulernability. Katie Kacvinsky has penned a wonderfully amazing novel, that is powerful and gives readers magnificent insight into the emotional complexities of not just falling in love, but staying in love through the tender growth and development of Gray and Dylan's relationship. These two lost souls, seem to find themselves as they are slowly falling for the other. There are entrancing moments filled with heartache, selfishness, light and laughter, sprinkled throughout the pages and it's an endearing watching their fall and the the way they have to slowly work at their relationship in order to keep it.

These two could not be more opposite than the sun and the moon, night and day. Where Dylan is light and life, Gray is in fact what his name represents - dark and stormy. Yet, the two seem to do such a wonderful job at balancing the other out. Gray is a loner who usually keeps to himself, dealing with his grief in his own way and Dylan is always seeking adventure and what will come next. She's so full of a exubrence for life, while Gray is a bit moody and aloof. It was such a delight watching these two fall in love slowly, over a period of time.

Over the course of the book, Katie Kacvinsky does a beautiful job of slowly developing Gray and Dylan's relationship. The beginning of their tentative friendship starts to grow from awkward to eventual trust, caring, admiration, and mutual found respect in the other. As the time passes, they discover that they are falling in love with one another and as the realization comes to light they find that they have to work to keep their relationship. It makes it that much more endearing and heartfelt.

First Comes Love is not just a story about falling love and experiencing the many wonderful firsts that come along with it, it's also about working on that love and learning to accept the other faults, strengths, and weaknesses. Sometimes, it even means having to say you're sorry. Love can be selfish and cruel, just as it is can be kind and vulnerable. The journey Gray and Dylan take is sweet, tragic, and truly blessed with life-affirming spirit. There's a beauty in the sweet tenerness witnessed between these two that will have readers aching with them. They get to know one another through their own strengths and weaknesses, making their romance even more tender and vulnerable.

Katie Kacvinsky has written a beautiful, tender, and sensitive novel about the firsts experiences of falling in love and has also taken it to the next level, by slowly showing how the relationship between Gray and Dylan develops slowly over time, that will resonate with readers in such a powerfully emotional way.

{ This ARC was provided by ATW ARC Tours, in exchange for an honest review which I have provided. No money exchanged hands, I review books for fun because I love to read. I am not interested in monetary gain. Any piece of this ARC that was/wasn't quoted, is not part of the finished product and should not be perceived as such.}