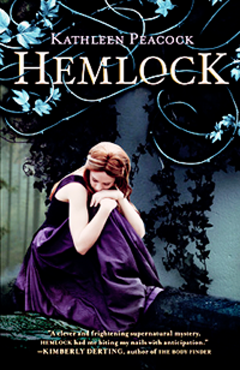 Hemlock
by Kathleen Peacock
Publisher: Katherine Tegen Books
Published: May 8, 2012
Pages: 416
Age Demographic: Young Adult
amazon | b&n

Mackenzie and Amy were best friends. Until Amy was brutally murdered.

Since then, Mac's life has been turned upside down. She is being haunted by Amy in her dreams, and an extremist group called the Trackers has come to Mac's hometown of Hemlock to hunt down Amy's killer: A white werewolf.

Lupine syndrome—also known as the werewolf virus—is on the rise across the country. Many of the infected try to hide their symptoms, but bloodlust is not easy to control.

Wanting desperately to put an end to her nightmares, Mac decides to investigate Amy's murder herself. She discovers secrets lurking in the shadows of Hemlock, secrets about Amy's boyfriend, Jason, her good pal Kyle, and especially her late best friend. Mac is thrown into a maelstrom of violence and betrayal that puts her life at risk.

Kathleen Peacock's thrilling novel is the first in the Hemlock trilogy, a spellbinding urban fantasy series filled with provocative questions about prejudice, trust, lies, and love.

* Summary taken from Goodreads.
❝My Thoughts❞
Hemlock is a sizzling debut paranormal mystery brimming with intrigue and daring originality in plot detail. It's incredibly thrilling and enjoyable, making it a fun paranormal read. The imagery and descriptive writing style is stunning and amazingly captivating. Kathleen Peacock delivers a wonderfully likable heroine that readers will fall in love with and cheer on. There's also a tantalizing love triangle that adds attractive appeal to the novel. The best thing about it is that it doesn't overtake the main objective of the story and is handled really well.

Mac is strong, level-headed, and independent for all she's had to endure in her life. She's had it pretty tough and readers will be able to sympathize with her. She's grown up without a mother, a virtually non-existent wayward father, and is currently living with an older cousin. Mac seems to have a knack for making some pretty good decisions and keep a good head on her shoulders. She's loyal to a fault and is extremely protective of those she cares a great deal about.

As awesomely kickass as she is, she still has a few flaws of her own. One of them being, that she makes it hard for people to get too close to her and chooses more often to keep them at arm's length. She's also dealing with the nightmares of Amy's death that have been plaguing her dreams almost every night, since then. Mac soon discovers that she's in a world full of gritty violence and betrayal, filled with secrets and lies as she takes on the task of following the clues from the recent werewolf attacks and trying to solve the crimes in an effort to find out who is responsible for them.

Kyle has a secret of his own, one that makes him a lot more mysterious and the plot more intriguing, as readers get further along in the book. He's been Mac's best friend forever and once he reveals his secret, the two of them start closer and their connection starts getting deeper. The attraction that's obviously always been there between, but just never acknowledged slowly starts to make its way to the surface and things start to heat up a little slowly for the two. He's incredibly loyal and protective of her, but trusts her a great deal to share this with her. He might even be guilty of being a little emo.

Jason, on the other hand, is an incredibly complex and complicated bad boy from a rich and well-to-do family who feels extremely entitled. He's also Amy's ex-boyfriend and is pretty torn up about her death and dealing with it in self-destructing ways. Mac seems to be the only one who notices the good qualities about, but it makes it really hard for others to see it. Readers will either like him or not, but they will at least sympathize with him a little bit. He hates everything about werewolves and joins the Trackers, a militant group that are trained to hunt and kill werewolves. This pretty much puts both him and Mac at odds with one another, but she still helps him when he needs it even though his decisions aren't necessarily the best.

The Lupine Syndrome was an interesting element added to the plot, giving a unique twist to the story of werewolves. I personally enjoyed that like the vampires in Charlaine Harris's world, the werewolves in Hemlock were out and public, yet some of them still tried to hide themselves and there was a wealth of information on them with the CDC and various other resources. Those individuals who are infected by the virus are supposed to report themselves to the government and are then forced to live out the rest of their lives in internment camps. As much as I personally enjoyed this aspect of the story, I wish that there had been a little more of the werewolves in it. I would have liked to have seen a little less of the strong militant, brutal, and violent tendencies of the Tracker's that had everyone fearful of how powerful they were and a little more werewolves. That is just a small minor quibble that I had with the book and not one that's big enough to really change the rating.

Hemlock is brimming with dangerous twists and turns, unexpected suspense that will have readers on the edge of their seats, and intriguing mystery. It's filled with wonderful subtle romance, lies, and egregious betrayal that are not expected. The ending is sure to keep readers voraciously awaiting the sequel. Kathleen Peacock shines with a stunning new debut that will surely set the bar for all werewolf tales to follow. The originality shining through is full of so much wow; the story just pops off the pages and comes to life.
Want to purchase a copy of Hemlock by Kathleen Peacock?
You can do so by visiting my Amazon Store and adding them to your shopping cart. While you're there, feel free to look around, you might find something else you want. This is something new that I'm trying out, so thank you so much for helping me out and for supporting me and my blog. I hope you enjoyed the review and the book. I definitely suggest you pick up a copy for yourself or even for someone else, if you think they'll like it.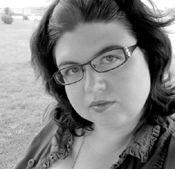 ABOUT KATHLEEN PEACOCK

Website || Twitter || Facebook || Goodreads

Kathleen spent her teen years crushing on authors and writing short stories about vampires. She put her writing dreams on hold while attending college, but tripped over them when office life started leaving her with an allergy to cubicles.

Author information taken from her Goodreads.
{ This ARC was provided by HarperTeen, in exchange for an honest review which I have provided. No money exchanged hands, I review books for fun because I love to read. I am not interested in monetary gain. Any piece of this ARC that was or wasn't quoted, is not part of the finished product and should not be perceived as such. Instead, you should compare and check it against a finished copy once it is released.}