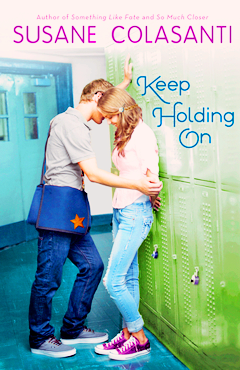 Keep Holding On
by Susanne Colasanti
Publisher: Viking Juvenile
Expected Publication: May 31, 2012
Pages: 224
Age Demographic: Young Adult
amazon | b&n


A romantic and empowering book about bullying.

Noelle's life is all about survival. Even her best friend doesn't know how much she gets bullied, or the ways her mom neglects her. Noelle's kept so much about her life a secret for so long that when her longtime crush Julian Porter starts paying attention to her, she's terrified. Surely it's safer to stay hidden than to risk the pain of a broken heart. But when the antagonism of her classmates takes a dramatic turn, Noelle realizes it's time to stand up for herself--and for the love that keeps her holding on.

* Summary taken from Goodreads.
❝My Thoughts❞
Keep Holding On is an emotionally empowering book of survival. Susane Consalati pens a powerfully realistic portrayal of bullying and child neglect and the after affects of it. Her characters are refreshing in the sense that they aren't clichéd. She writes them in such a way that they are likable and sympathetic to readers who cheer some of them on or ache with others. Though the subject matter and issues dealt with may seem a bit on the heavy side, the writing seems to come out on the lighter end. It is easily a book that readers can become absorbed in.

It's beautifully and poignantly written. Noelle is tormented relentlessly in school by numerous bullies, as well as being neglected in her home life by her own mother. She goes through most of the book keeping her head down, feeling as if it's better to stay quiet and as hidden as she possibly can, rather than to draw any more unwanted or unwarranted attention to herself. It isn't until a tragic incident happens, that she decides it's times to stand up for herself as well as others who have gone through something similar. It was nice to see her finally start to realize that she is good enough to be with her long time crush Julian and that she can be loved for who she is.

Julian was a really sweet, kind, and caring guy so full of charm that made him incredibly likable. It was sweet, to see how he understood Noelle better than she believed he could. It was heart wrenching to see Noelle push him away as many times as she did during the book, but it was also sweet to see that she finally realized that he did actually care about her despite the fact that there were a few differences between them. When they finally did end up together, their romance was just as sweet and charming as Julian was throughout the whole book. I really liked how he was able to help instill some confidence into Noelle, that she lacked before she finally realized that she could deserve someone as nice and sweet as Julian is.

Sherae and Simon were also such amazingly fabulous characters to get to know. Together, these two were wonderful friends to Noelle, helping her in their own ways that she doesn't even realize until later. Sherae is probably one of the best supporting characters I've seen written in young adult contemporary lately, because she was such a supportive best friend, didn't care about the monetary differences between her and Noelle, and did everything that she could do for her when she could. Simon was equally as fabulous as Sherae was in his own ways. He had his own style and originality and just seemed to never really care what other's thought of him or the things he did. One of the things that I personally enjoyed about him was how he was able to open up Noelle's eyes and give her a little more insight to embracing who she is and not letting other's get away with holding her down.

Keep Holding On is a book that I think everyone (not just young adults) would benefit from reading. It tackles neglect and the affects of bullying in such a powerful way, keeping it light enough that readers can connect easily with the characters emotionally and still benefit from the message. Susane Consalati gives readers her own personal insight into her life and things she's dealt with as a young adult, which makes it even more powerful and emotional. I would recommend this book to those who enjoy the wonderful writing styles of Lauren Barnholdt, Sarah Dessen, Jennifer Echols or Elizabeth Scott.
Want to purchase Susane Consalati's Books?
You can do so by visiting my Amazon Store and adding them to your shopping cart. While you're there, feel free to look around, you might find something else you want. This is something new that I'm trying out, so thank you so much for helping me out and for supporting me and my blog. I hope you enjoyed the review and the books, if you've already read them. If you haven't, then I definitely suggest you pick up a copy for yourself or even for someone else, if you think they'll like them.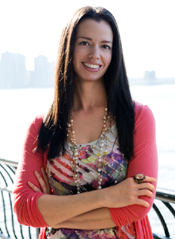 ABOUT SUSANE CONSALATI

Website || Twitter || Facebook || Goodreads

Susane Colasanti is the author of When It Happens, Take Me There, Waiting for You, Something Like Fate, and So Much Closer. She has a bachelor's degree from the University of Pennsylvania and a master's degree from New York University. Before becoming a full-time author, Susane was a high school science teacher for almost ten years. As a teenage Jersey girl, she felt like her true home was across the water in New York City. She now lives in the West Village.

Susane's sixth book, Keep Holding On, will be released on May 31, 2012. You can visit Susane's blog for the latest news.

Author information taken from her .
{ This ARC was provided by ATW ARC Tours, in exchange for an honest review which I have provided. No money exchanged hands, I review books for fun because I love to read. I am not interested in monetary gain. Any piece of this ARC that was or wasn't quoted, is not part of the finished product and should not be perceived as such. Instead, you should compare and check it against a finished copy once it is released.}